DC Comics For Sale




Jack Kirby's
OMAC #3
From the incredibly creative mind of the "King", Jack Kirby, comes
OMAC the One Man Army Corps.
This VF/NM book from 1975 guides for $26 and it's yours FREE,
upon request with any order of $50 or more.


*one per customer, please!
Ambush Bug (Keith Giffen) 1-3 $1
Son of Ambush Bug (Keith Giffen) 1-4 $1
Amethyst, Princess of Gemworld (1983)
1vf++ (origin) $4.95, 1vf+ $3.95,
2-12 available upon request
| | | |
| --- | --- | --- |
| | | |
| Animal Man #6 | Animal Man #8 | Animal Man #16 |
Animal Man
(1988)
1nm (Grant Morrison begins) $10,
2 (
Superman
) $3,
2vf+ $1.50,
3 (B'Wana Beast) $4,
4 (B'Wana Beast) $3, 4vf+ $1.50,
5 $4,
6, 7 $2.50,
8 (1st appearance Mirror Master) $3.50,
8vf $1.75,
9 (J'onn J'onzz) $4,
10 (Vixen) $4,
10vf $2,
11 (Vixen) $1,
12 (Vixen) $1.75,
13 (B'Wana Beast) $1, 13vf+ 50¢,
14 $1.50, 14vf 75¢,
15 (Dophin, Sea Devils) $1.50, 15vf+ 75¢,
16 (
Justice League Europe
, Time Commander) $2,
17 (Mirror Master, includes Wes Craven movie poster) $1.50,
18 $1.50,
18vf+ 75¢,
19 $3,
20 (JLE cameo) $1.50, 20vf+ 75¢,
21 (Mirror Master) $1.25,
22 (Rip Hunter) $1.25,
23nm- (Psycho-Pirate) $8.50,
24vf (Psycho-Pirate) $4.25,
25 (Inferior Five) $1.25,
26 (last Grant Morrison, Animal Man meets Grant Morrison) $4,
27-35 $1, 34vf+ 50¢,
36vf+ 75¢,
37-39 $1.50,
40 (
Dr Fate
, Phantom Stranger cameo) $1.95,
41-46, 48, 49 $1.75, 42vf+, 45vf+ $1
47vf+ $1.25
Armaggeddon 2001 (1991, all of Earth's Heroes vs Monarch)
1 (intro Waverider) $1.95, 1 (3rd print) 75¢,
2 (Justice League, death of Dove) $1.50
Armaggeddon: Alien Agenda (1991)
1-4 (Monarch vs Captain Atom)* sale price 75¢

Armaggeddon: Inferno (1992)
3 (Waverider, JLA, JSA, Lobo, Art Adams & Walt Simonson) $1
Blackhawk (1988, Howard Chaykin, square-bound prestige format)
1-3 $1.95
Black Lightning (1977)
1vf/nm (origin & 1st appearance Black Lightning) $69,
1vf+ $49, 1vf $39, 1fn/vf $29, 1fn $19,
2up available upon request
Black Orchid (Gaiman) Book One $1.95
Blue Beetle (1968, Vol. 3, Charlton)
5fn (the Question, Steve Ditko) $12
Blue Beetle (1986)
1nm- (origin retold) $12.95, 1vf/nm $9.95, 1vf+ $6.95,
2-4 (Dr Alchemy)* sale price $1,
8vf+ $1.25
5-7 (the Question)* sale price $1,
9 (Legends cross-over, Chronos) $1.75, 9vf+ 90¢,
10 (Legends cross-over, Chronos) $1.75,
12-14 (New Teen Titans cross-over) $1.50,
15-18* sale price $1,
21 (Millenium, Mr Miracle, Chronos) $1.50,
23 $1.25
Blue Devil (1984)
1vf/nm $3.95, 1vf+ $2.95,
2vg/fn (1st appearance Shockwave) $1,
4vf (Zatanna, Superman, Elongated Man) $1.25,
5 (Zatanna, Elongated Man) $1.50,
6* sale price $1,
7 (Gil Kane) $1.25,
8, 9 (Trickster) $1.25,
10, 11* sale price $1,
12 (Demon), 13 (Demon, Green Lantern) $1.25,
14 (Kid Devil) $5,
15, 19, 20, 21, 22, 28* sale price $1,
18fn+ 75¢
Blue Devil Annual 1 (Creeper, Demon, Phantom Stranger, Manbat, Black Orchid)* sale price $1
Books of Magic (1990, Prestige Format, Neil Gaiman & John Bolton)
1 (1st appearance Timothy Hunter) $7.95,
2nm (Spectre, Constantine, Deadman, Zatanna, 1st appearance Justice League Dark?) $14, 2nm- $9.95,
3 (Doctor Occult) $2.50,
4 (Phantom Stranger, Death, Doctor Occult) $4.95
Books of Magic (1994) ...available upon request
Booster Gold (1986)
1nm- (1st appearance Booster Gold & Skeets) $12.95, 1vf/nm $9.95, 1vf+ $6.95,
2, 3, 11, 12* sale price $1,
13-16 (Rip Hunter) $1.25,
18, 20* sale price $1,
22 (Justice League) $1.50,
24 (Millenium) $1.25,
25 (Blue Beetle, J'onn J'onzz, Rip Hunter, Millenium) $1.50
Brave and the Bold
28 (Silver Age Classic Edition) $2.50,
28 CGC graded 2.5 Good+ restored $1,195
29gd (2nd appearance of the Justice League) $85, 29fr/gd $55,
30fr/gd (3rd appearance of the Justice League) $55,
44 ...not available
54 ...not available
57 ...not available
79vg/fn (early Deadman, art by Neal Adams) $10.95
80vg (5th appearance Creeper, 1st appearance Hellgrammite, art by Neal Adams) $9.95,
81vg (Flash, 1st appearance Bork, art by Neal Adams) $8.95,
82vg (Aquaman, origin Ocean Master, art by Neal Adams) $11.95,
84vg/fn (Sgt Rock, 1st S.A. appearance Golden Age Batman, Winston Churchill, Neal Adams) $9.95,
85vg (1st appearance of new Green Arrow, Neal Adams) $11.95,
86gd/vg (Deadman, Robin, Rama Kushna, art by Neal Adams) $5.95,
86-199 ...available upon request
108fn (Sgt. Rock) $4.95,
110fn (Wildcat) $4.95,
120vf (68 pages, Kamandi, Secret Six) $5.95,
122vf+ (Swamp Thing) $3.95,
125vf (Flash) $2.95,
126 (Aquaman) $5.95,
128vf+ (Mister Miracle, Big Barda, Grannie Goodness) $4.95,
197vf+ (Batman marries Catwoman) $18.95, 197vf $12.95,
200vf/nm (1st appearances of Katana, Halo, Geoforce & The Outsiders) $31,
Brightest Day (2010)
0 (Deadman, Green Lantern, Reverse Flash, Firestorm, Hawkman) $1
Camelot 3000 (1982, Brian Bolland) 1-12 available upon request
Captain Atom (1965, Charlton)
82fn (1st appearance Nightshade) $35,
84fn/vf (1st appearance new Captain Atom, Blue Beetle, Steve Ditko) $21,
86vf- (Blue Beetle, Nightshade, the Ghost, Steve Ditko) $23,
88vg+ (Steve Ditko, Nightshade by Jim Aparo) $9
Captain Atom (DC, 1987)
1 (44 pages, origin & 1st appearances of Captain Atom & Gen Wade Eiling) $7.95,
1vf++ $6.50,
2-4* sale price $1,
5 (Firestorm) $1.25,
6-10* sale price $1,
11 (Millenium) $1.50,
12-41* sale price 75¢,
42vf++ (1st appearance Death in DC Universe) $22.95,
43 (2nd appearance Death) $2.50,
44-48* sale price 75¢
Captain Carrot (1982)
1 (Superman) $3.95
Catwoman
Challengers of the Unknown 4vg/fn (Kirby art with Wally Wood inks) $75
Chase (1998)
1vf++ (Green Lantern, Martian Manhunter) $2.95,
3 (Suicide Squad) $1
Checkmate (1988)
2-5, 8, 9, 14* sale price 75¢,
2vf+, 8vf+, 10vf+ 65¢,
20, 21, 22, 23 (Peacemaker issues) $1,
24vf+ (Peacemaker) 75¢
Cosmic Odyssey (1988, graphic novel by Jim Starlin & Mike Mignola)
1 (Darkseid, Superman, Batman, Martian Manhunter, GL, reintro New Gods) $1.95,
2 (New Gods, Darkseid, Superman, Batman, Martian Manhunter, GL, Demon) $1.95
Creeper (1968, Steve Ditko)
1vg+ (the Menace) $15,
2vg (intro Proteus) $7

Crisis on Infinite Earths #1
Marv Wolfman
George Perez

Crisis on Infinite Earths #7

Death of

Supergirl

DC Comics Presents #1

Crisis on Infinite Earths
1nm (1st appearance Alex Luthor, 1st appearance Blue Beetle in the DC Universe) $8.95,
1 nm- $5.95, 1vf/nm $4.95,
2 (1st appearance Anti-Monitor) $8.95, 2vf+ $4.50, 2vf $3,
3 $3.95, 3vf+ $1.95,
4 (death of Monitor, 1st appearances of Lady Quark & Doctor Light/Kimiyo Hoshi) $9.95, 4vf+ $5.95,
4 (newsstand edition) $13.95,
5 $4.95, 5vf+ $2.50,
6 (1st appearance Yolanda Montez as Wildcat, 1st appearances of Captain Atom, Nightshade, Peacemaker & the Question in the DC Universe) $6.95,
7 (double size, Death of Supergirl) $9, 7vf+ $4.50,
8nm (Death of Barry Allen - Flash) $19, 8nm- $12.95,,
9 (newsstand) $6.95, 9vf+ (newsstand) $3.95,
10 (deaths of Aquagirl, the Icicle & Mirror Master) $6.95,
11 (1st appearance Blue Beetle) $7.95,
12nm- (1st appearance Wally West as Flash, deaths of Wonder Woman, Green Arrow II, Dove, Huntress & Robin II) $10
Darkstars (1992)
1 (1st appearance Darkstar) $2.50,
4 $1
DC One Million 2, 3 (Grant Morrison) 75¢
DC Sampler
2 (1st appearance Outsider) $1.95,
3 (1st preview appearance John Constantine) $1.95
DC Special Series
10vf/nm (Secret Origins of Super-Heroes 1978, Dr Fate, Lightray, Black Canary) $5,
10vf+ $2.95, 10vf $2.50, 10fn $1.25, 10vg 90¢
DC's Young Animal Mixtape Sampler (2017) 1 $1.50
Deadman (1985, Neal Adams)
1 (intro & origin Deadman) $2.95,
3, 4, 6 $1.95,
5, 7 (Batman) $2.50
Deadman (1986, Andrew Helfer & Jose Luis Garcia Lopez)
1 (Batman) $1.95,
3* sale price $1
Deadman: Exorcism (1992, Mike Baron & Kelly Jones, Graphic Novel) 1 $1.95
Deadman: Love & Death (1989, Mike Baron & Kelly Jones, Graphic Novel) 1, 2 $1.95
Deadshot: Beginnings (1988)
1 $3.95, 1vf+ $2.50, 1vf $1.95,
2vf+ $1.25, 2vf $1,
3 $1.50, 3vf+ $1,
4nm- $1.95, 4vf/nm $1.50
Death: The High Cost of Living (Gaiman) 1 $3.50,
2 $2.95,
3 $1.95
Death: The Time of Your Life (Gaiman) 3vf+ $1
Demon (1972, Jack Kirby)
1vf+ (origin Demon, 1st appearance Demon, Merlin & Morgaine le Fey) $109,
1vf $89, 1fn/vf $65, 1fn (tape on inside back cover) $19.95,
2vf (Merlin, Morgaine le Fey) $11, 2fn/vf $8.50, 2fn $5.95,
3vf/nm $17, 3vf+ $14,
7vf/nm (1st appearance Klarion the Witchboy) $19,
10vg/fn $1.95,
13vf/nm $14.95,
14fn/vf (Klarion the Witch Boy) $3.50,
16vf+ $7.50
4-16 ... available upon request
Demon (1987, Matt Wagner)
1-4 $1.50
Demon (1990)
0 vf (Garth Ennis) $1.50 ,
1 (Alan Grant scripts begin) $1.50,
2* sale price 75¢,
3 (Batman)* sale price $1,
4-7* sale price 75¢,
8 (Batman, Klarion the Witch Boy)* sale price $1,
9, 10 (Klarion the Witch Boy, Phantom Stranger)* sale price $1,
11 (Klarion the Witch Boy, Phantom Stranger)* sale price 75¢,
12 (Lobo, Simon Bisley cover) $1.50,
13, 14 (Demon vs Lobo) $1.50, 13vf, 14vf+ 75¢,
15 (Demon vs Lobo, Phantom Stranger)* sale price $1,
16, 18* sale price $1,
19 (origin Demon, Lobo poster insert) $1.95,
21 (Demon vs Lobo) $1.25,
40 (Garth Ennis scripts begin) $1.75, 40vf+ $1,
41vf+ $1,
42vf+ (Garth Ennis) $1,
43, 44 (Hitman, Garth Ennis) $4.50,
46-48 (Haunted Tank, Garth Ennis) $1.50,
49 (Garth Ennis) $1.50,
50vf (52 pages, Garth Ennis) $1.95,
51vf+ (Ennis) $1
55-57 (Garth Ennis) $1.50
Divergence (2015)
1 (unstamped, 1st appearances of new Batman & Myrina Black) $3.95
Doctor Fate (1987, mini series, Keith Giffen)
1 (1st appearance Eric Strauss as Dr Fate) $3.95,
2-4 $1.75
Doctor Fate (1988)
1 (1st appearance of Petey the Demon) $2.95,
2-14, 16* sale price $1,
15 (Justice League) $1.50,
17, 19* sale price $1,
20 (Phantom Stranger)* sale price $1,
21* sale price $1,
22 (Phantom Stranger)* sale price 75¢,
23* sale price 75¢,
24 (Phantom Stranger)* sale price 75¢,
25 (1st appearance new Dr Fate) $3.95,
28, 34* sale price 75¢,
35, 37* sale price $1
Doom Patrol (1968)
92vg+ (2nd app Mento, 1st appearance Doctor Tyme) $15.95,
105fn (early appearance of Beast Boy) $5.95,
116fn/vf (Madame Rouge) $6.95
Doom Patrol (1987)
1 $3.50, 1vf+ $1.95,
2 $1.25, 2vf+ 85¢,
3 (1st appearance Lodestone) $2.50, 3vf $1.25,
4 (1st appearance Karma) $1.50, 4vf+ $1,
5-9 $1.25, 5vf+, 6vf+, 7vf, 8vf+, 9vf+ 85¢,
10 (Superman, Metallo, 1st appearance Reactron) $2.95, 10vf+ $1.75,
11-13 $1.25,
14vf++ (Powergirl, 1st appearance Dorothy Spinner) $6.95,
11-18 $1.25,
19 (1st appearance Crazy Jane, Grant Morrison begins) $15.95, 19vg/fn $3.50,
20 (2nd appearance Crazy Jane) $3.95, 20fn/vf $1.50,
21 $1.95,
22 (1st appearance Red Jack cameo) $2.95, 22vf+ $1.95,
23 (1st full appearance Red Jack) $5.95, 23fn $1.50,
24, 25 $1.95, 24fn 75¢,
26vf+ $1.95,
27 $1.95,
28 (Animal Man, Booster Gold, Blue Beetle) $2.50,
29 (Superman, Justice League) $2.50,
30-34 $1.75,
35 (1st brief app Flex Mentallo) $2.95,
36 (1st full app Flex Mentallo) $5.95,
37 (Flex Mentallo) $2.50,
38-40 $1.75,
41 $1,
42 (origin Flex Mentallo) $2.95,
43 $1.50,
44 (1st appearance Candlemaker cameo) $2.95,
45 (1st appearance Beard Hunter) $1.95, 45vf $1,
48vf+ $1,
49 $1.50, 49vf+ 75¢,
50 (52 pages) $1.95, 50vf+ $1,
51 $1.50, 51vf+ 75¢,
54vf+, 55vf+ $1,
57vf (52 pages, 1st full appearance Candlemaker) $3.50,
64vf+, 65vf, 67vf, 68vf $1,
66, 69-74 $1.50, 69vf+, 70vf 75¢,
76 (Ted McKeever) $1.75
Fanboy (Sergio Aragonés)
2 (Green Lantern, Gil Kane) $1.50,
3 (JLA) $1.50
Firestorm (1978)
1fn/vf (origin & 1st appearance Firestorm) $22.95, 1fn $14.95, 1vg/fn $6.50,
2fn+ (Superman, 1st appearance Multiplex) $1.95,
3vf+ (origin & 1st appearance Killer Frost) $23, 3vf $17.95, 3fn/vf $12.95, 3fn $7.95

Fury of Firestorm (1982)
1nm (brief origin, 1st appearances of Jefferson Jackson & Firehawk) $7.95,
1nm- $5.50, 1vf/nm $3.95, 1vf+ $1.95,
2* sale price $1,
3 (Killer Frost) $1.25,
4 (JLA, Killer Frost) $1.25,
6* sale price $1,
7vf/nm (1st appearance Plastique) $5.95,
8-14* sale price $1,
15 (1st appearance Henry Hewitt/Tokamak) $3.50,
16* sale price $1,
17vf+ (1st appearance new Firehawk) $1.50,
19* sale price $1,
21 (1st appearance new Killer Frost - Louise Lincoln) $3.95,
22* sale price $1,
23vf+ (1st appearance Felicity Smoak) $11.95, 23fn/vf $7.95,
24vf+ (1st appearances of Blue Devil & Red Devil) $5.95,
25* sale price $1,
28nm (1st appearance Slipknot) 12.95,
29vf++ (1st appearance Mindboggler) $3.95,
30-33* sale price $1,
34, 36 (Killer Frost) $1.25,
37* sale price $1,
38 (1st appearance the Weasel) $3.50,
39, 40* sale price $1,
42 (Crisis) $1.50,
43-50* sale price $1,
51 (1st appearance Sand Demon) $2.95,
52, 53* sale price $1,
55 (Legends) $1.50,
57* sale price $1,
58 (1st appearance Parasite) $3.50,
59-62* sale price $1,
63 (JLA) $1.25,
64 (Suicide Squad, Killer Frost, JLA) $1.25,
65* sale price $1,
66 (vs Green Lantern, 1st appearance Zugernaut) $1.95,
67, 68 (Millennium) $1.25,
69-80* sale price $1,
First Issue Special (1975)
5vg/fn (1st appearance Mark Shaw/Manhunter by Jack Kirby) $6.95,
7vf/nm (Creeper, art by Steve Ditko) $9.95,
8nm (1st appearance Warlord, Mike Grell) $35,
8nm- $26, 8vf+ $7.50, 8fn $7.95, 8vg/fn $2.95
Forever People (1971, Jack Kirby)
1fn (1st full app Darkseid, 1st appearance Forever People, Superman) $25
2vf (1st appearance Desaad) $27,
3vf+ (Darkseid, DeSaad, 1st appearance Glorious Godfrey) $17.95, 3fn/vf $8.95,
5vf+ (Darkseid, DeSaad, Sandman) $15.95,
6fn/vf (Darkseid, DeSaad) $7.95,
7vf+ (Abraham Lincoln, King Arthur, Metron, Orion, Sandman) $15.95,
8vf++ (Darkseid, DeSaad, Sandman) $18.95, 8vf+ $15.95,
9vf/nm (Deadman, Sandman) $22, 9vf++ $17.95, 9vf $11.95, 9fn/vf $8.95, 9vg $2.95
Forever People (1988) 1-6 $1
Gilgamesh II (1989, Jim Starlin, prestige format) 1-4 $1.50
Golden Age (1983, Elseworlds, James Robinson, Paul Smith) 2, 4 $1.75
Green Arrow (Jack Kirby, square bound) $2.95
Green Arrow (1988, Mike Grell)
1-3, 8* sale price $1, 8vf+ 75¢,
4, 6, 7, 9 $1.25, 5vf+, 6vf, 7vf+, 9vf 65¢,
5 $1.50,
10vf $1,
12 $1.50,
13, 14, 16-18, 20, 21, 23, 24 $1.25, 21vf+ 65¢,
15, 22 $1, 15vf 50¢,
19, 25, 26, $1.50
27vf+, 28vf+ (Warlord issues) $1,
29vf+, 30vf+ 75¢,
31, 32, 37, 39-44, 46, 49 $1.25,
33vf+, 34vf+, 45vf+, 47vf+, 48vf+ 75¢,
50 (double sized anniversary issue) $1.50
Green Arrow Annual 1 $1.50, 1vf+ 75¢,
2 (Question, origins of GA, Speedy & Black Canary) $1, 2fn+ 50¢,
3 (Question) $1, 3fn+ 50¢,
Green Arrow (2001, Kevin Smith) 1 $3.50,
2 (Batman cameo) $2.50,
3, 5 $1.95, 12 (Hawkman), 13 $1.75
Green Arrow: Long Bow Hunters (1987)
1nm (1st appearance Shado) $7.95, 3 $1

Hardware (1993)
1 (collector's edition still sealed in poly-bag, 1st appearance Hardware) $6.95
Hawk and Dove
(3rd Series) #1

Hawk and Dove
(3rd Series) #12

Hawk and Dove
(3rd Series) #19
Hawk and the Dove (1968)...available upon request
Hawk and Dove(1988, 2nd series, by Karl & Barbara Kesel and Rob Liefeld)
1vf+ (1st appearance new Dove) $3.95, 1fn/vf $2.50,
2vf+ $1, 3fn 75¢,
4, 5 $1, 4vf+, 5vf+ 75¢
Hawk and Dove(1989, 3rd series)
1 (Justice League) $1.25,
2-10* sale price $1,
2vf+, 3vf+ 60¢,
11, 12 (Teen Titans) $1.25,
15, 17* sale price $1,
18, 19 (the Creeper, Madmen) $1.25,
20 (Kevin Maquire art) $1.25,
23* sale price $1,
24 (Batgirl) $1.25,
25 (38 pages, Dick Giordano, Dan Jurgens, Kevin Maquire) $1.25
Hawk and Dove Annual
1 (Titans West, Clayface, the Top, Icicle)* sale price $1
Heckler (1992, Keith Giffin) 6 60¢,
Hellblazer
Hitman
House of Mystery (1951)
178vf (Neal Adams) $33, 178fn $14,
184fn (Alex Toth, Gil Kane, Wally Wood) $9,
204vf (Berni Wrightson, Alex Nino) $18, 204fn/vf $11,
221vf+ (Berni Wrightson, Mike Kaluta) $18,
254fn+ (84 pages, Marshall Rogers, Steve Ditko) $4.95,
259vf (84 pages, Michael Golden, Don Newton, Bob Layton) $7.95
House of Secrets (1956)
90vf+ (Rich Buckler, Neal Adams, Gray Morrow) $29, 90vg/fn $8.95
92fn/vf (1st appearance Swamp Thing by Len Wein & Berni Wrightson) $130
Huntress (1989)
1nm+ (origin & 1st appearance Huntress) $12.95, 1nm $9.95, 1nm- $7.95,
3-9* sale price 85¢,
13 $1,
17 (Batman) $1.95,
18 (Batman)* sale price $1
Icon (1993)
1 (collector's edition still sealed in poly-bag, 1st appearances of Icon & Rocket) $18.95,
2-4 $1.50
Impulse
1 $3.50, 2-6 $1.25, 3vf+ 50¢
Infinity Inc (1984)
1 (Brainwave Jr, Fury, Huntress, Jade, Northwind, Nuklon, Obsidian, Power Girl) $3.50,
2 (Dr Midnite, G.A. Flash, Wonder Woman, Dr Fate, Hourman, Green Lantern, Wildcat) $1.95,
3vf+ (Solomon Grundy, JSA) $1.25,
4 (JSA, origin Jade & Obsidian) $2.50,
5 (JSA) $2.50,
6vf (JSA) $1,
7 (Superman vs Power Girl, JSA) $3.95,
8 (JSA) $1.95, 8fn 85¢,
9vf (JSA) $1,
10, 11 (JSA) $1.50, 10vf, 11vf+ 85¢,
12 (1st appearance Yolanda Montez as Wildcat) $2.95, 12vf+ $1.95,
13vf+ $1,
14vf (1st appearance Chroma, Todd McFarlane starts) $5.95,
15 (Chroma, Todd McFarlane art) $1.95,
16vf (McFarlane, 1st appearance Mr Bones) $1.95,
17vf+ (McFarlane, 1st appearances of Arak, Babe, Penny Dreadful & Tao Jones) $1.95,
18 (McFarlane,JSA, Crisis cross-over) $1.95,
19 (McFarlane,JSA, Crisis cross-over, 1st appearances of new Doctor Midnight & Mekanique) $3.50,
20 (McFarlane, JSA, Crisis cross-over, 1st appearance of new Hourman) $2.95, 20vf+ $1.95,
21 (McFarlane, JSA, Crisis cross-over) $1.95,
23 (McFarlane, Solomon Grundy, Crisis cross-over) $1.75,
24 (McFarlane, Jonni Thunder, Crisis cross-over) $1.75, 24vf+ $1,
25 (McFarlane, JSA, new Wildcat) $1.95,
26 (McFarlane, Mr Bones, new Wildcat) $1.50, 26fn/vf 75¢,
27vf+ (McFarlane, JSA) $1,
28 (McFarlane, Mr Bones) $1.50,
29 (McFarlane, Mr Bones) $1.95,
30 (McFarlane, JSA, Dr Fate) $1.95,
31 (McFarlane, Psycho-Pirate) $3.50,
32vf+ (McFarlane, Psycho-Pirate) $1.95,
33 (McFarlane, origin Obsidian) $1.95, 33vf+ $1,
34 (1st appearances of Hazard, Tigress & Icicle, Todd McFarlane) $6.95,
35vf+ (Global Guardians, Injustice Unlimited) $1.25, 35fn 75¢,
36 (Global Guardians, Injustice Unlimited, McFarlane) $1.50,
37 (last Todd McFarlane, origin Northwind) $1.95,
38 $1.25,
40, 41, 43, 44 $1,
42vf 85¢,
45 (New Teen Titans) $1.75,
46 (Millenium cross-over) $1.25,
47 (Millenium cross-over) $1.50, 47vf+ $1,
48 (origin Nuklon) $1.75,
49 (Sandman) $1.50,
50 (52 pages, Sandman, JSA) $1.50,
51 (Sandman wedding, death issue) $1.95,
52vf+, 53vf+ $1
Invasion (1989, Keith Giffin & Todd McFarlane)
1 (Dominators, Martian Manhunter, GL Corps, 1st appearance Garryn Bek) $3.95,
2 (Firestorm, Flash, GL, Superman, Batman, JLI, Peacemaker, 1st appearances of Strata & Lyrissa Mallor) $1.95,
3 (Firestorm, Flash, GL, Superman, Batman, JLI, Suicide Squad, Doom Patrol, Dr Fate) $2.50
Jack Kirby's Fourth World (John Byrne)
2, 5, 6, 8, 19 $1.50
Jonah Hex (2010)
1 (Special Edition) 50¢
Kingdom (Mark Waid) 1 $3.50, 2 $2.50
Kingdom Come (Mark Waid & Alex Ross) 3 $2.75
Kingdom: Offspring
1 (Mark Waid, Frank Quitely) $1.25
Legends (John Byrne)
1nm- (1st appearances of new Captain Marvel, Amanda Waller & Brimstone) $9.95,
1vf/nm $6.95, 1vf+ $4.95,
2 $1.50,
3nm (origin & 1st appearance new Suicide Squad) $55, 3nm- $39, 3vf/nm $29,
4, 5 $1.50,
6nm- (1st appearance of new Justice League) $5.95, 6vf/nm $3.95, 6vf+ $1.95
Lex Luthor: Unauthorized Biography (graphic Novel) $3.50
| | | |
| --- | --- | --- |
| | | |
| Lobo (1990) #1 | Lobo's Back #1 | Lobo Paramilitary Christmas Special |
Lobo (1990, Keith Giffen Alan Grant, Simon Bisley)
1 (1st Lobo in his own book) $9.95,
2 (Legion '89 spin-off) $1.25,
3, 4 $1.25
Lobo (1993)
0 (origin retold, Lobo as a child, Superman cameo) $2,
1 (foil enhanced cover) $3, 1vf $1.50,
4-7, 9, 11, 12 $1.50,
3fn+, 8vf+, 9vf, 11vf+, 12vf+ $1
Lobo's Back (Keith Giffen Alan Grant, Simon Bisley, for mature readers) 1-4 $1.25
Lobo Blazing Chain of Love (for mature readers) $1.25
Lobo Convention Special 1 $1.50
LoboCop 1 $1.50
Lobo Infanticide (Keith Giffen, Alan Grant) 1-4 $1
Lobo/Judge Dredd (graphic novel) $3.95
Lobo Paramilitary Christmas Special $1.50
Lobo Unamerican Gladiator 1vf+ 75¢, 2, 3 $1.25
Madame Xanadu (1981, Steve Englehart & Marshall Rogers)
1nm- (Brian Bolland story) $4.95, 1vf/nm $3.95, 1vf+ $2.95, 1vf $1.95
Masters of the Universe (1982, DC)
1vf/nm $22.95
Masters of the Universe (1986, Star comics)
1nm 25.95, 1vf/nm $18.95, 1vf+ $12.95,
2nm $6.95, 2vf/nm $4.95, 2vf+ $3.50,
12vf/nm (Death of He-Man) $45
Masterworks Series (1983)
1, 2 (Frank Frazetta - Shining Knight) $3.95
Metamorpho (1965)
7fn/vf (Terror from Fahrenheit 5000) $13.95
Millenium (1988, Superman, Batman, JLA, Manhunters)
1 $1.95,
2-8 $1.50
Mister Miracle (1971, Jack Kirby)
1fn/vf (1st appearances of Mister Miracle & Oberon) $135, 1fn $99,
2vg (1st appearance of Granny Goodness) $9.50,
3vf+ (1st appearance of Doctor Bedlam) $27, 3vf $19.95, 3fn $9.95, 3vg/fn $6.50,
4fn (1st appearance of Big Barda) $29,
5vf/nm (1st appearance of Virman Vundabar) $29, 5fn/vf $14.95,
6vf++ (1st appearances of Bernadeth, Lashina, Mad Harriet, Stompa & Funky Flashman AKA Stan Lee) $89,
7vf (1st appearance of Kanto) $19.95,
8vf+ (1st appearance of Gilotina) $24.95, 8vf $18.95
9vf/nm (Darkseid, Metron, 1st appearance of Himon) $17.95, 9vf++ $14.95,
9vf+* sale price $9.95, 9vf $7.95, 9fn/vf $5.95, 9fn $4.95, 9vg/fn $3.95,
10vf++ (Female Furies, the Head) $13.95, 10fn/vf $8.50, 10fn $5.95,
11 (Female Furies, Doctor Bedlam) ,
12vf+ (Female Furies) $12.95,
13vf++ (King Komodo) $13.95, 13vf+ $12.95, 13vf $10.95,
14vf+ (Female Furies, Madame Evil Eyes) $12.95,
15nm- (1st appearance Shilo Norman) $19.95, 15vf+$10.95, 15fn/vf $6.95,
16vf (Professor Exe) $10.95, 16fn/vf $7.95, 16fn $5.95,
17nm- (Peppi Lamoko) $19.95, 17vf+ $12.95, 17vf $9.95,
18vf++ (Darkseid, Orion, Lightray, Granny Goodness, Barda & Scott Free wed, last Kirby issue) $15.95,
18vf+ $13.95, 18vf $11.95, 18fn/vf $9.50, 18fn $6.95,
19, 20 (Granny Goodness, Dr Bedlam, Kanto, by Steve Englehart & Marshall Rogers)* sale price $1.95,
22vf+ (Darkseid, Highfather, Himon, Kanto, by Englehart & Rogers) $2.50,
23 (by Steve Gerber & Michael Golden) $2.95, 23vf+ $1.95,
24 (by Steve Gerber & Michael Golden)* sale price $1.95, 24vf+ $1.25,
25 (final issue, Darkseid, Granny Goodness, by Gerber & Golden) $2.95, 25vf+ $1.95
Mister Miracle (1989)
1 $2.95,
2 $1.50,
3 (Forever People)* sale price $1,
4 (Forever People) $1.50,
5 (Forever People)* sale price $1,
6 (Green Lantern G'Nort)* sale price $1,
7, 8 (Blue Beetle, Booster Gold) $1.25,
9* sale price $1,
10 (Justice League) $1.25,
11 (Funky Flashman aka Stan Lee) $1.25,
15 (Justice League) $1.25,
17 (Justice League, Darkseid, Granny Goodness) $1.25,
18 (Funky Flashman, Darkseid, Granny Goodness) $1.25,
19 (Darkseid, Blue Beetle, Booster Gold) $1.25,
21-24* sale price $1,
25-27 (Justice League) $1.25
Mister Miracle Special (1987, Mark Evanier, Steve Rude, Mike Royer)
1 (Funky Flashman aka Stan Lee, Darkseid, Kalibak, Granny Goodness) $1.95

New Gods (1971, Jack Kirby)
1vf/nm (1st appearances of Orion, Highfather, Lightray, Metron, Kalibak) $139,
1fn+ $55,
2vf (2nd full appearance of Darkseid, 1st appearance Deep Six) $24.95,
3vf+ (1st appearance Black Racer) $15.95,
4vf+ (52 pages, Darkseid cameo) $14.95,
4fn+ $5.95, 4vg/fn $2.95,
5vf- (52 pages) $7.95, 5fn+ $5.95,
6vf (52 pages) $14.95,
7vf+ (52 pages, Darkseid, origin Orion) $17,
8vf/nm (52 pages, Kalibak, Lightray) $19.95, 8vf $11.95, 8fn $5.95,
9vf (52 pages, 1st appearance Forager) $12.95, 9fn+ $6.95, 9vg $2.95,
10vf (Lightray, Orion, Forager, Mantis) $8.95, 10vf- $6.95, 10fn+ $4.95, 10vg $2.50,
11vf (last Jack Kirby issue, Darkseid, Desaad, Orion vs Kalibak) $8.95,
11fn+ $4.95, 11fn $3.95, 11vg $2.50,
12-19 available upon request
New Gods (1984, Baxter paper, Jack Kirby)
5 $1.75, 5vf $1,
6 (48 pages of new Kirby story & art) $5.95
New Gods (1989)
1 (Darkseid, Desaad, Kalibak, Mark Evanier) $1.95,
2 (Darkseid, Mantis, Mister Miracle, Jim Starlin) $1.25,
3 (Darkseid, 1st appearances of Council of Five, Madame Nature, Teledar, Gideon, Kradlock, Cyborg-87 & Lota) $2.95,
4 (Forager, Mantis, Mister Miracle, Jim Starlin) $1.25,
5-7 (Mark Evanier)* sale price $1,
8 (1st appearances of Suli, Jovita & Tyrus, Mark Evanier) $2.50,
9 $1.25,
10, 11 (Mark Evanier)* sale price $1,
12 (Mark Evanier) $1.25,
13 (Mark Evanier)* sale price $1,
14 (Mark Evanier) $1.25,
15 (Mark Evanier)* sale price $1,
16 (Superman, Darkseid, Desaad) $1.25,
17 (Darkseid Rules)* sale price $1,
18 (Mister Miracle)* sale price $1.25,
21-24 (Mark Evanier)* sale price $1
25-27 (Mark Evanier) $1.50
New Guardians (1988)
1 $1,
2 (1st appearance Snowflame) $19.95,
5,6 $1
OMAC (1974, Jack Kirby)
1nm- (origin & 1st appearance OMAC, 1st appearance Brother Eye) $25,
1vf/nm $16, 1vf+ $10, 1vf $6.95, 1fn $4.95,
2nm- $13.50, 2vf/nm $7, 2vf+ $5.50, 2vf $4.50, 2fn/vf $3.50,
3nm- $13.50, 3vf/nm $7, 3vf+ $5.50, 3fn/vf $2.95,
4nm- $14.50, 4vf+ $5.50, 4vf $4.50,
5nm $20, 5nm- $14.50, 5vf/nm $7, 5vf+ $5.50, 5vf $4.50, 5fn $2.95,
6nm- $14.50, 6vf/nm $7, 6vf+ $5.50
OMAC (1991, graphic novel, John Byrne) 1-4 $1.95
Omega Men
1 $1.25,
2* sale price 75¢,
3 (1st appearance Lobo) CGC graded 9.8 NM/M highest certified copy $265
3 (1st appearance Lobo) CGC graded 9.6 NM+ $125
3nm+ (1st appearance Lobo) $69,
3nm $59, 3nm- $49.00, 3vf/nm $39,
4* sale price 75¢,
5 (2nd appearance Lobo) $3.95,
6-9* sale price 75¢,
10 (3rd appearance Lobo) $2.95,
11-15* sale price 75¢,
16 (Alex Nino art) $1.50,
18, 19* sale price $1,
22-25 $1.25,
31 (Crisis crossover) $3,
34 (Teen Titans) $2
Omega Men Annual 1 75¢
Orion (2000, Walt Simonson)
1 (1st appearance of Lady Justeen) $2.50,
6 (1st appearance of Mortalla, Darkseid's wife) $2.50,
8 (Jeph Loeb, Rob Liefeld) $1.25,
12 (Jim Lee) $1.25
Outsiders (1985, Black Lightning, Metamorpho, Katana)
1 $1.95,
2-20 available upon request,
21nm (1st appearance Lady Clay) $4.95, 21vf $1.50
Peacemaker (1988)
1nm (origin Peacemaker) $11.95, 1vf/nm $5.95,
2, 3 $1.25
Phantom Stranger (1969)
4fn/vf (1st new look Phantom Stranger, Neal Adams) $15,
40vf- (Deadman, Black Orchid) $4.95
Power Girl (1989) 1vf $2.25, 2 $1.95, 2vf, 3vf $1
Question (1987)
1 $9.95, 1fn/vf $3.50,
3-16* sale price $1,
17nm (1st appearance of Watchmen Rorschach in DCU, Green Arrow) $22,
18 (Green Arrow) $1.75,
19-25* sale price $1,,
26 (Riddler) $1.50, 26vf+ 75¢,
27-34, 36 $1.25
Question Annual
1 (Batman, Green Arrow, Fables) $1.25,
2 (Green Arrow) $1.25, 2vf+ 65¢,
Question Quarterly 1, 2 $1.25
Ragman (1991)
1nm+ (1st appearance Ragman) $14.95,
2 (1st appearance Golem) $1.95,
4 $1,
5 (Batman, Golem) $1
The Ray (1992)
1 (1st appearance the Ray) $10.95, 1vf++ $8.95, 1vf+ $6.95,
2, 3 (Joe Quesada art) $1.50,
4, 5 (Doctor Polaris, Joe Quesada art) $1.50,
6 (Lobo cameo, Joe Quesada art) $1.75
The Ray (1994)
0 (Martian Manhunter) $1,
1 (Gold Foil cover, Superboy, Brimstone) $2.50,
4 (Doctor Polaris, Joe Quesada cover) $1,
6 (Black Canary, Death Masque) $1,
9 (Black Canary) $1
Richard Dragon, Kung-Fu Fighter (1975)
1vf+ (1st appearances of Richard Dragon & Ben Turner/Bronze Tiger) $19.95
Ronin (Frank Miller)
1 (1st appearance Ronin) $3.95
2, 3 $1.95,
4, 5 $2.95,
6 $4.95
| | | |
| --- | --- | --- |
| | | |
| Secret Origins #1 | Secret Origins #7 | Secret Origins #11 |
Secret Origins
(2nd Series, 1973)
3vf/nm (Golden Age
Wonder Woman
, Golden Age Wildcat) $12,
3fn/vf $3.95,
5fn (Golden Age
Spectre
) $3.95,
6vg/fn (Legion of Super-Heroes, Blackhawk by Will Eisner) $2.95
Secret Origins (3rd Series, 1986)
1 (Superman by Roy Thomas, Wayne Boring and Jerry Ordway) $2.50, 1fn 95¢,
2 (Golden Age and Silver Age Blue Beetle by Len Wein & Gil Kane) $1.50,
3 (Captain Marvel by Roy Thomas & Jerry Bingham) $1.50,
4 (Firestorm) $1, 4fn/vf 50¢,
5 (Crimson Avenger by Roy Thomas & Gene Colan) $1, 5fn 50¢,
6 (Batman by Roy Thomas, Marshall Rogers & Terry Austin) $1.75, 6vf 95¢,
7 (Green Lantern/Guy Gardner, Golden Age Sandman) $1.75, 7fn/vf 95¢,
8 (Shadow Lass & Doll Man) $1, 8fn 50¢,
9 (Golden Age Flash) $1.50, 9vf+ 80¢,
10 (Legends spin-off, Phantom Stranger, Alan Moore) $1.95, 10vf+ $1,
11nm (origin Power Girl, origin Hawkman) $3.50, 11vf/nm $2.25, 11vg+ $1,
12vf+ (Challengers of the Unknown by Mark Evanier & Chuck Patton) $1,
13 (Nightwing & Johnny Thunder, Erik Larsen) $1.25,
14 (Suicide Squad) $4.95, 14vf+ $2.95,
15 (Deadman by A Helfer & Kevin MaGuire, Spectre by R Thomas & Michael T. Gilbert) $1.75,
16 (Warlord & Golden Age Hourman, Adam Kubert) $1.75,
17 (Adam Strange & Dr. Occult) $1.25,
18 (Golden Age Green Lantern & Creeper, Keith Giffen) $1.50,
19vf+ (Uncle Sam & the Guardian, Murphy Anderson) 85¢,
20 (Batgirl & Golden Age Dr. Mid-Nite) $1.25, 20vf+ 75¢,
21 (Jonah Hex & Black Condor, Gray Morrow, Murphy Anderson) $1,
22 (Manhunters, Millenium) $1.50,
23 (Guardians of the Universe, Millenium, Rick Veitch) $1.25,
25 (Legion of Super-Heroes & Golden Age Atom) $1.50,
26 (Black Lightning & Miss America) $1,
27 (Zatara & Zatanna) $1.95,
28vf+ (Midnight & Nightshade, 1st appearances of Punch & Jewelee) $1.50,
29 (Atom, Golden Age Red Tornado by Sheldon Mayer) $1.50,
30 (Plastic Man & Elongated Man) $1
| | | |
| --- | --- | --- |
| | | |
| Secret Origins #31 | Secret Origins #32 | Secret Origins #41 |
31 (Origin of the Justice Society of America) $2.50,
32 (Origin of the
JLA
, Peter David, Keith Giffen, Eric Shanower) $2.50, 32vf+ $1.25,
33 (Mr. Miracle, Green Flame & Icemaiden) $1.50, 33vf+ 75¢,
34 (
Captain Atom
, Gnort, Rocket Red) $1,
35 (J'onn J'onzz Martian Manhunter,
Booster Gold
, Maxwell Lord) $1.25,
36vf+ (
Green Lantern
& Poison Ivy,
Neil Gaiman
) $1,
37 (Legion of Substitute-Heroes & Doctor Light) $1,
38 (
Green Arrow
& Speedy) $1.50,
39fn+ (Origin of
Animal-Man
& Man-Bat, Grant Morrisson, Kevin Nowlan) 75¢,
40 (Gorilla Grodd, Congorilla & Detective Chimp) $1,
41 (Flash's Rogues' Gallery: Trickster, Pied Piper, Capt Cold, Heat Wave, Capt Boomerang) $1.25,
42 (Phantom Girl & Grim Ghost) $1,
43 (original Hawk & Dove) $1,
| | | |
| --- | --- | --- |
| | | |
| Secret Origins #44 | Secret Origins Annual #2 | Secret Origins Special #1 |
44 (Batman vs the Mudpack, Clayface) $1.25, 44vf 75¢, 44fine 50¢,
45vf+ (Blackhawk & El Diablo) 65¢,
46 (Titans & Legion Headquarters, 1st appearance Arm Fall Off Boy aka TDK) $9.95,
47 (Chemical King, Ferro Lad & Karate Kid) $1, 47vf+ 60¢,
48 (Ambush Bug by Keith Giffen) $1,
49 (Newsboy Legion & Bouncing Boy) $1,
50 (96 pages, last issue, Flash of Two Worlds by Grant Morrison, Black Canary) $1.75
Secret Origins Annual
1 (Doom Patrol, John Byrne) $1.50,
2 (Flash: Barry Allen & Wally West) $1.95, 2vf+ $1.25
Secret Origins of Super-Heroes 1978 (see DC Special Series #10)
Secret Origins of the World's Greatest Super-Heroes
(1989, Superman by John Byrne, JLA by Eric Shanower, Batman, Flash, GL) $2.50
Secret Origins Special (1989)
1 (Penguin, Riddler & Two-Face, 1st appearance Gilda Dent, Neil Gaiman, Sam Kieth) $2.95
Secret Society of Super Villains (1976)
1 vf/nm (origin, Grodd, Capt Cold, Mirror Master, Star Sapphire, Manhunter, JLA) $8,
7vf (Superman, Hawkgirl, Luthor, Felix Faust, Wizard, Copperhead) $2.50,
7fn+ $2, 7fn $1.50,
12fn (Zoom, Wizard, Star Sapphire, Copperhead, Blockbuster, Robin) $1.50
Secrets of Haunted House (1975)
1fn/vf (Alex Nino, Sergio Aragonés) $5.95
Secrets of Sinister House (1972)
6vf+ (Alfredo Alcala, Mike Kaluta cover) $9.95
Sergio Aragonés Destroys DC 1 $1.50
Shade the Changing Man (1977, Steve Ditko)
1vf+ (1st appearance Shade the Changing Man) $9.95, 1vf $7.95, 1fn/vf $5.95, 1fn $3.95,
2-6 ...available upon request
Shade the Changing Man (1990, Peter Milligan & Chris Bachalo)
1nm (1st appearance Rac Shade the Changing Man) $9.95, 1nm- $7.50, 1vf/nm $5.95,
2, 3, 5-8 $1
The Shadow (1973)
1nm (1st DC appearance of the Shadow, Denny O'Neill & Michael Kaluta) $49,
1vf/nm $25, 1vf+ $15,
2-12 available upon request
The Shadow (1986) ... all issues available upon request
The Shadow (1987) ... all issues available upon request
Shazam
(1973) 1vf/nm (return of golden age Captain Marvel, origin retold) $24
Shazam: The New Beginning
(1987) 1vf+ $1.95
Showcase (1956)
22 (1st SilverAge Green Lantern) CGC 2.5 Good+ $750
23 (2nd SilverAge Green Lantern) CGC 4.5 Very Good+ $265
24 (3rd SilverAge Green Lantern) CGC 5.5 Fine- $325
34 (1st appearance the Atom/Ray Palmer) CGC 3.5 Very Good- $245
38fr (2nd appearance Metal Men) $10,
39gd- (3rd app Metal Men) $22,
40fr+ (4th app Metal Men, coupon cut) $7,
59fr (3rd appearance of the silver age Teen Titans) $4.95
60vg/fn (1st Silver Age appearance of the Spectre) $49,
60vg (writing on inside pages & cover) $30, 60gd/vg $30, 60gd $19,
61vg+ (2nd Silver Age appearance of the Spectre) $19, 61vg $16, 61gd $9.95,
64fn/vf (Spectre) $24.95, 64gd/vg $6.95
61-93 ...available upon request
94vf+ (New Doom Patrol, 1st appearances of Negative Woman, Celsius & Tempest) $14.95,
95vf+ (New Doom Patrol, 2nd appearances of Negative Woman, Celsius & Tempest) $4.95,
95fn/vf $2.50, 95fn $1.50,
96vf (New Doom Patrol, 3rd appearances of Negative Woman, Celsius & Tempest) $2.95,
97vf (origin Power Girl) $7.95,
98fn+ (origin Power Girl, Brainwave) $2.50,
99vf (Power Girl vs Brainwave, Golden Age GL & Flash) $2.95, 99fn $1.75,
100fn+ (52 pages, JLA, Titans) $1.50
Siver Age Brave & Bold (2000, Kevin Maguire, Batman) 1 75¢
Siver Age 80-Page Giant (2000, Mark Waid, JLA) 1 $1.25
Siver Age Green Lantern (2000, Kurt Busiek) 1 75¢
Siver Age Showcase (2000, Deadman, Batgirl, Catwoman, Luthor) 1 75¢
| | | |
| --- | --- | --- |
| | | |
| Spectre #1 | Spectre #3 | Spectre #4 |
Spectre
(1st Series, 1967)
1vf/nm (Gardner Fox & Murphy Anderson) $175,
1vf $95,
1vf- $65,
1fn/vf $59,
1fn $35,
2vf (Neal Adams) $39, 2fn/vf $22, 2fn- $14,
3 CGC graded 9.0 VF/NM $99.95
3nm- (Wildcat, Neal Adams) $119,
3vf/nm $69, 3vf+ $45, 3vf $37,
3fn+ $19,
3vg $9,
4vf/nm (Neal Adams) $79, 4vf+ $49, 4vf $39,
4fn $19,
5vf+ (Neal Adams) $53, 5fn/vf $27, 5fn $19,
6vf+ $28, 6fn+ $14, 6vg $7,
7vf+ (Hourman) $30,
7vf- $16,
7fn- $10,
9vf (Bernie Wrightson) $30,
9vf- $16,
10vf+ $28
Spectre (2nd Series, 1987)
1 $1.50,
2-8 85¢,
11 (Millenium) $1.50,
12-15, 17, 19, 20, 22, 26, 28, 30, 31 85¢,
Spectre Annual (2nd Series) 1 $1
Spectre (3rd Series, 1992, John Ostrander & Tom Mandrake)
0 (zero issue) $1,
1 (glow-in-dark cover) $2.50,
4-6 85¢,
8, 13 (glow-in-dark covers) $1.50,
10, 11, 15 85¢,
22 (Spectre vs Superman, Alex Ross cover) $1.95,
23-25, 27, 37 85¢
Starman (1988)
1 (1st appearance Starman/Will Payton) $3.50,
2-20 available upon request
Starman (1996)
0 (1st appearances of the Shade & the Mist) $3.95,
1 (1st appearance Starman/Jack Knight) $6.95,
2-7 $1.50,
14 $1.50, 20, 22, 24, 25, 30 $1
Starman Annual 1 $1.25
Static (1993)
1 (collector's edition still sealed in poly-bag, 1st appearance Static) $69
Steel (1978)
1vf++ (1st appearance of Commander Steel) $14.95, 1vf $9.95,
2up available upon request
Suicide Squad (1987)
1nm- (Deadshot, Mindboggler, Plastique, Captain Boomerang, Bronze Tiger, Enchantress) $49,
1vf/nm $35, 1vf+ $24.95,
2vf $1.25,
3 $1.25,
4 (Chronos joins team) $1.75,
5-7 $1, 7vf 75¢,
8vf++ $1,
9 (Millenium) $1.50,
10 (Batman) $1.50,
11vf $1,
12 $1, 12vf++ 75¢,
13 (vs JLA) $1.50, 13vf+ $1,
14, 15 $1, 14fn/vf, 15vf 75¢,
16 (re-intro Shade Changing Man) $1,
17-20 $1, 17vf, 18vf+, 20vf++ 75¢,
21vf+, 22vf+ $1,
23 (1st appearance Oracle) $3.95,
25, 26 $1, 25vf++ 75¢,
27vf+ $1,
29 (1st Peacemaker in Suicide Squad) $2.95,
30 (Peacemaker) $1.95,
31-33 $1.25, 31vf+, 32vf+ 85¢,
36 (Darkseid) $1.50,
37 $1, 37vf+ 75¢,
38vf++ $1
39 $1.50,
40 (the Phoenix Gambit, Batman, includes Suicide Squad poster) $1.50,
41-43 (the Phoenix Gambit, Batman) $1.25, 43vf+ 95¢,
46vf+, 47vf+ $1,
48nm- (Joker, Count Vertigo) $39,
49 (Joker, Bat-Girl/Oracle, Killing Joke aftermath) $29,
61 (Superman, Batman, Aquaman, death of Atom) $2.50
Suicide Squad Annual
1vf+ (Justice Society) $1.50
Superboy
Supergirl
Superman
Swamp Thing
Teen Titans
V
V for Vendetta (Alan Moore)
1 $3.95, 1vf $1.95,
2, 3, 5, 6, 8, 9 $2.75, 7, 10 $3.50,
3vf+, 5vf, 8vf+, 9vf+ $1.50
Vigilante (1983)
1 $2.95,
2 $1.50,
3 (Teen Titans) $1.50,
4, 10, 11 $1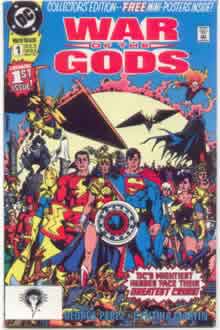 War of the Gods (George Perez)
1 (Wonder Woman, Superman, Justice League, Gods of Olympus, Circe, Darkseid) $1.50,
3 (Wonder Woman, Superman, Justice League, Gods of Olympus, Darkseid)* sale price 75¢,
4 (Wonder Woman, Superman, Justice League, Gods of Olympus, Darkseid, 1st appearance First DC Zombies) $2.25
Watchmen (Alan Moore)
1nm- $45,
2 $5.95,
3, 5, 7, 9, 11, 12 $6.95
Weird (1988, Justice League, Bernie Wrightson, Jim Starlin)
1 (1st appearance the Weird) $1.50,
2-4* sale price $1, 2vf 85¢
Witching Hour (1969)
1vf+ (Alex Toth, Neal Adams) $60, 1fn+ $25,
2vg/fn (Alex Toth) $7.50,
3fn (Berni Wrightson, Alex Toth) $11,
15vg/fn (Wally Wood, Gray Morrow, Phil Seuling, Alex Toth) $3.75
World's Finest (1941)
111gd (1st appearance Clock King) $9.95,
198fn+ (3rd Superman/Flash race) $29
Young All-Stars
Young Animal (2016) SDCC Ashcan promo $2.95
Young Heroes In Love 2, 6, 7 75¢
Young Justice 1vf 75¢