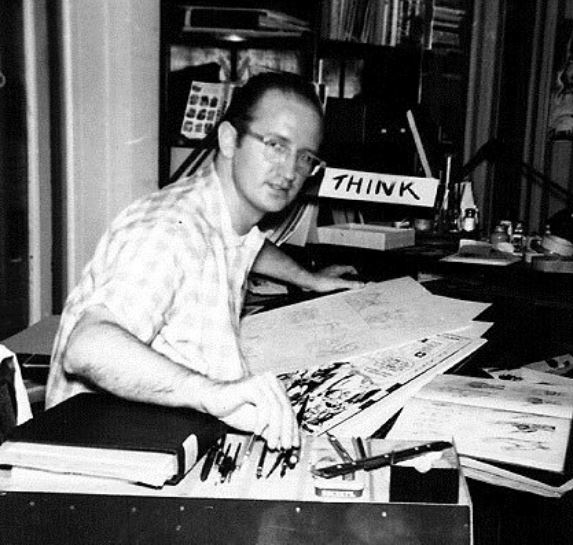 Rest in peace, Steve. We'll miss you!

SPIDER-MAN Comics For Sale

Spectacular
Spider-Man #2
From January 1977, Spidey battles
Kraven the Hunter and the Tarantula.
This Bronze Age book in VF/NM condition
guides for $26 and is yours FREE,
upon request with any order of $40 or more.

*one per customer, please!

Amazing Fantasy
15 (1992 Marvel Milestone Edition, 1st appearance Spider-Man) $9.95,
15vf++ $3.50
Amazing Spider-Man (1962)
1nm- (1993 Marvel Milestone Edition) $6.95, 1vf/nm $3.95, 1vf+ $2.50,
3 (2007, Wizard Ace edition) $7.95,
4 (1st appearances of Electro & Betty Brant) CGC graded 4.0 VG $849
6 (1st appearance of the Lizard) CGC graded 4.5 VG $849
7 (2nd appearance of the Vulture) CGC graded 5.5 Fine- $675
8 (Fantastic Four, 1st appearance the Living Brain) CGC graded 2.5 Good+ $225
9 (Origin & 1st appearance Electro) CGC graded 5.5 Fine- $1,249
10 (1st appearances of Big Man, Ox, Montana & Fancy Dan) CGC graded 5.5 Fine- $395
11 (2nd appearance Doctor Octopus) CGC graded 3.5 VG- $349
11vg (2nd appearance Doctor Octopus, Stan Lee & Steve Ditko) $159,
12 (3rd appearance Doctor Octopus) CGC graded 8.0 VF $1,095
12fn $195,
13 (1st appearance Mysterio) CGC graded 8.0 VF $2,995
13vg (1st appearance Mysterio, tear 1.25" tear on back cover) $175,
14 (1st appearance Green Goblin) CGC graded 4.5 VG $549
15 (1st appearance Kraven the Hunter) CGC graded 3.5 VG- $795
16 (1st Daredevil crossover, 2nd appearance Ringmaster) CGC graded 6.0 Fine $449 ,
16fn/vf (1st Daredevil crossover, 2nd appearance Ringmaster) $295,
18 (Fantastic Four, Sandman, 1st appearance Ned Leeds) CGC graded 5.0 VG/Fine $249
19 (Human Torch, Sandman and Enforcers) CGC graded 4.0 VG $175
20vg (origin & 1st appearance of the Scorpion) $92,
22fn (Circus of Crime, 1st appearance of Princess Python) $79,
26vg (4th appearance Green Goblin, 1st appearance Crime Master) $47,
27vg (tear on the back cover, 5th appearance Green Goblin) $55,
28gd/vg (origin & 1st appearance Molten Man, Stan Lee & Steve Ditko) $79,
29vg (2nd appearance Scorpion, Stan Lee & Steve Ditko) $29,
30vg (1st appearance Cat/Prowler, Stan Lee & Steve Ditko) $31,
31 (1st appearances of Gwen Stacy & Harry Osborn) CGC graded 3.0 GD/VG $219
36vf (1st appearance the Looter, Stan Lee & Steve Ditko) $89, 36vf- $79, 36fn/vf $72,
37fn (1st appearance Norman Osborn, Stan Lee & Steve Ditko) $79,
38vf (2nd brief appearance Mary Jane Watson, last Steve Ditko issue) $89,
38fn $48, 38vg/fn $32, 38vg/fn (extra staples through book) $25,
39fn/vf (Green Goblin's ID revealed, 1st Romita on Spiderman) $120,
40fn- (1st told origin Green Goblin, Stan Lee & John Romita) $80,
41fn+ (1st appearance Rhino, Stan Lee & John Romita) $92,
42fn (2nd app Rhino, 3rd app Mary Jane) $45,
43vg/fn (3rd app Rhino, Stan Lee & John Romita) $23,
44fn (Lizard, Stan Lee & John Romita) $31, 44vg/fn $23,
45vg/fn (Lizard, Stan Lee & John Romita) $23,
46vf (1st appearance Shocker, Stan Lee & John Romita) $77,
47vf+ (5th app Kraven the Hunter, Goblin cameo, Lee & Romita) $110, 47vf $75,
48vf (Vulture, Stan Lee & John Romita) $75, 48vg/fn $23, 48vg+ $19,
49vf (6th app Kraven the Hunter, Vulture, Lee & Romita) $75,
50vg/fn (1st appearance Kingpin) $100,
51 (2nd appearance Kingpin) CGC graded 9.0 Very Fine/Near Mint $395
51vf/nm (2nd appearance Kingpin, Stan Lee & John Romita) $185, 51vf+ $135,
52fn (3rd Kingpin, 1st appearance Joe Robertson, Lee & Romita) $29,
53 (Peter Parker & Gwen Stacy's first date) CGC graded 9.4 Near Mint $385
53vf/nm (Dr Octopus, Stan Lee & John Romita) $85, 53vf++ $75, 53vf $59,
54fn (Dr Octopus, Stan Lee & John Romita) $24,
55vf (Dr Octopus, Stan Lee & John Romita) $55,
56fn (Dr Octopus, Stan Lee & John Romita) $20,
57fn/vf (Ka-zar, Stan Lee & John Romita) $36, 57fn $31, 57vg/fn $19,
58vf (Ka-zar, Prof Smythe Spider Slayer, Lee & Romita) $55, 58fn/vf $35,
59vf (1st appearance Brainwasher, Kingpin cameo, 1st cover appearance MJ) $59,
60vf- (Kingpin, Stan Lee & John Romita) $42,
61fn/vf (Kingpin, Stan Lee & John Romita) $33,
62vf/nm (Medusa, Stan Lee & John Romita) $75,
63gd/vg (Vulture, Stan Lee & John Romita) $9.95,
64 CGC graded 9.6 NM+ $450
64nm- (Vulture, Stan Lee & John Romita) $125, 64vf/nm $64, 64vf+ $49, 64vg/fn $19,
65vg/fn (Stan Lee & John Romita) $16.95,
66fn+ (Mysterio, Green Goblin cameo, Lee & Romita) $22,
67vf (Mysterio, 1st appearance Randy Robertson, Lee & Romita) $39,
68vf (Kingpin, Stan Lee & John Romita) $37,
72 CGC graded 9.2 NM- $250
72vf/nm (Shocker, Stan Lee, John Buscema & John Romita) $69, 72vf+ $49,
74nm- (2nd appearance Silvermane, Man-Mountain Marko, Stan Lee & John Romia) $110,
74vf/nm $64, 74vf+ $45, 74vf $37, 74vg/fn $15,
76 CGC graded 9.6 NM+ $650
76vf/nm (Human Torch, Lizard, Stan Lee & John Buscema) $55, 76vf+ $35,
77vf (Human Torch, Lizard, Stan Lee & John Buscema) $45,
78vf+ (1st appearance & origin the Prowler, Stan Lee & John Buscema) $47, 78vf- $25,
79nm- (2nd appearance the Prowler, Stan Lee & John Buscema) $100,
79vf/nm $55, 79vf+ $40,
83vf (1st appearance Schemer, Kingpin, Stan Lee & John Romita) $30, 83fn+ $16,
88 CGC graded 9.6 NM+ $395
88nm (Dr Octopus, Stan Lee & John Romita) $120, 88nm- $105,
88vf/nm $55, 88vf+ $30, 88fn/vf $20,
90vf+ (Death of Captain Stacy) $45,
91nm $120, 91nm- $105, 91vf/nm $55, 91vf+ $30,
92vf- (Iceman, Stan Lee, Gil Kane, John Romita) $31,
97vf+ (Green Goblin, not approved by Comics Code) $90,
98fn/vf (Green Goblin, not approved by Comics Code) $42,
100fn/vf (Green Goblin, Kingpin, Dr Oct, Vulture, Stan Lee & Gil Kane) $49,
101fn/vf (1st appearance Morbius, Gil Kane) $75, 101vf/nm (2nd print silver variant) $3.95,
102vg/fn (origin & 2nd appearance Morbius, Lizard, 52 pgs, Gil Kane) $39,
103vf (Kraven, Ka-zar, Gil Kane) $30,
104vg/fn (Kraven vs Ka-zar, Gil Kane) $10, 104vg+ $7.95,
105nm- (Spider Slayer, Stan Lee & Gil Kane) $55,
107vf+ (Prof Smythe Spider Slayer, Stan Lee & John Romita) $30, 107vf $24, 107fn+ 13,
109vf (Dr Strange, Stan Lee & John Romita) $30,
110vf+ (1st appearance the Gibbon, Stan Lee & John Romita) $32,
110vf $26, 110fn/vf $19, 110vg+ $11.95,
111vf+ (Kraven the Hunter, Romita) $35, 111fn+ $13, 111vg+ $7.95,
112vf+ (John Romita) $30, 112vf $24,
113vf/nm (Dr Octopus, 1st appearance Hammerhead, Jim Starlin) $55,
114vf+ (2nd app Hammerhead, Dr Octopus, Jim Starlin) $30,
115vf/nm (Romita, Doctor Octopus) $39, 115vf++ $29, 115fn $12, 115vg+ $7.50,
117fn (Romita) $13,
118vf+ $30, 118vf $24,
119vf+ (vs Hulk) $65,
121vf+ (Gwen Stacy dies) $160, 121fn+ $54,
122fn+ (Green Goblin dies) $75,
123nm- (Luke Cage) $55,
124vf+ (1st Man-Wolf) $43,
125vf (Man-Wolf origin) $27,
126nm- (Kangaroo, Human Torch) $55, 126vf+ $29, 126vf $24,
127vf (Vulture, Harry Osborne hints at becoming Goblin) $24, 127gd $4,
128nm (Vulture) $68, 128nm- $45,
128vf/nm $22, 128vf+ $17, 128vf $14,
130 CGC graded 9.6 NM+ $180
130nm (Hammerhead, Spidermobile) $55, 130nm- $34,
130vf/nm $27, 130vf+ $20, 130vf $15, 130fn $6, 130vg+ $4,
131nm- (wedding of Dr Octopus & Aunt May) $40, 131vf/nm $27,
131vf+ $20, 131vf $15, 131fn/vf $12.95, 131fn $10.95, 131vg $5.50,
132vf/nm (Molten Man) $27,
132vf+ $22, 132vf $16, 132fn+ $10, 132vg $5.50,
134vf+ (1st appearance Tarantula, Harry discovers Spidey's ID, 2nd appearance Punisher) $35,
135nm- $45
137vf+ ( 2nd appearance of Harry Osborn as Green Goblin,) $49, 137fn $18,
138vf+ $17,
141vf+ (1st appearance new Mysterio) $35,
142vf/nm (Mysterio, Gwen Stacy clone) $24, 142vf $12, 142vg $3.50,
143fn (Gwen Stacy clone, 1st appearance Cyclone) $5.95,
146nm- (Scorpion, Jackal, Gwen Stacy clone) $40,
146vf+ $14, 146vf $12, 146fn $5.95,
147fair (Gwen Stacy clone) $1,
149vf+ (Clone story begins, 1st appearance Ben Reilly/Scarlet Spider) $47,
149vf $35, 149fn/vf $24, 149fn $15.95,
149 Marvel Milestone Edition vf/nm $2.50, vf+ $1.25, fn $1,
| | | |
| --- | --- | --- |
| | | |
| Amazing Spider-Man #150 | Amazing Spider-Man #162 | Amazing Spider-Man #164 |
150 (Vulture, Kingpin, Sandman, Gil Kane art) CGC graded 9.6 NM+ $225
150nm+ (Clone storyline continues, Sandman, Vulture, Kingpin, Gil Kane) $59,
150nm
$45,
150nm-* sale price $14.95, 150vf/nm $9.95, 150vf+ $5.95,
150vf $3.95,
151nm (Clone storyline) $45,
152vf/nm (Shocker) $12.95, 152vf+ $7.95, 152vf $5.95, 152fn/vf $4.50, 152fn $2.95,
153vf/nm $12.95, 153vf+ $7.95, 153vf $5.95, 153fn $3.50, 153vg $2.50,
153gd $1.50,
154nm- (Sandman) $25, 154vf/nm $11, 154vf+ $7.95, 154vf $4.95,
154fn $3.50,
155nm $35,
155vf/nm $12.95, 155vf+ $7.95, 155vf $4.95, 155fn $3.50, 155vg $2.50,
156vg/fn $2.50,
157vf+ (Doctor Octopus, Ghost of Hammerhead) $7.95,
158fn/vf (Doctor Octopus, Ghost of Hammerhead) $3.95,
159vf/nm (Doctor Octopus, Hammerhead) $12.95,
159vf $4.95,
159fn/vf $4.25, 159vg $1.95,
160vf/nm (Spider-Mobile) $12.95, 160vf+ $4.95, 160vf $2.50,
161nm (Nightcrawler, Punisher) $35,
162vf (Nightcrawler, Punisher, 1st Jigsaw) $17, 162fn $5.95,
163vf+ (Kingpin)* sale price $2.95, 163vf $1.95, 163fn $1.50, 163vg/fn $1,
164fn (Kingpin) $2.95,
164vg $1.50,
165vf/nm (Stegron) $12.95, 165vf+ $4.50,
166vf/nm (Lizard, Stegron) $9, 166vf+ $4.50, 166vf $2.95,
166fn $1.95,
167vf/nm (1st appearance Will O' the Wisp) $9, 167vf++ $6.50, 167vf+ $4.95,
167vf $3.50,
168nm (2nd Will O' the Wisp) $22, 168nm- $16,
168vf/nm $12.95, 168vf+ $4.50, 168vf $2.95,
169vf+ (Clone story recapped) $6.95,
170nm $22,
171fn+ (Nova) $4.95,
172vf/nm (1st appearance Rocket-Racer, Molten Man) $14.95, 172vf+ $7.95, 172vf $4.50,
173vf/nm (Molten Man) $12.95,
174vf (Punisher) $9.95, 174fn/vf $5.95,
175 (Punisher, death of the Hitman) CGC graded 9.6 NM+ $99
175vf/nm (Punisher) $12.95, 175vf+ $6.50, 175vf $3.95, 175fn/vf $2.95, 175fn $1.95,
176nm (Green Goblin) $30,
177nm- (Green Goblin) $28, 177vf/nm $16, 177vf+ $12, 177vf $9.95,
177fn $4.50,
178vf/nm (Green Goblin) $16, 178vf++ $12.95, 178fn/vf $7.95, 178fn $5.95,
178vg $3.50,
179fn/vf (Green Goblin) $8.95, 179fn $6.50,
180vf/nm (Green Goblin) $19, 180vf+ $13,
181vf++ (origin re-told) $9.95,
182nm- (Peter's 1st proposal to MJ, Rocket Racer) $22,
182vf/nm $9.95, 182vf++ $4.95, 182vf+* sale price $2.95, 182vf $1.95,
183vf/nm (Rocket Racer) $9.95, 183vf+ $7.95, 183vf $3.95, 183fn $1.95,
184vf/nm $9.95, 184vf+ $7.95, 184vf $3.95, 184fn+ $1.95,
185nm- (Peter graduates) $22, 185vf++ $8.95, 185vf $6.95,
186vf+ (Chameleon) $7.95, 186fn+ $3.50,
187vf (Captain America, Electro, Jim Starlin art) $10,
188vf/nm (2nd full appearance Jigsaw) $11,
188vf+ $3.75, 188vf* sale price $2.25
, 188fn+ $1.50,
| | | |
| --- | --- | --- |
| | | |
| Amazing Spider-Man #188 | Amazing Spider-Man #250 | Amazing Spider-Man #251 |
189vf++ (
John Byrne
) $16, 189vf+ $12, 189vf $8,
190vf (Man-Wolf, John Byrne) $9, 190fn+ $5,
191nm (Spider-Slayer) $18, 191vf+ $5.95, 191vf $3.95,
191fn+ $2.50,
192vf/nm (the Fly, Death of Spencer Smythe) $12.95, 192vf+* sale price $3.95, 192vf $2.95, 192fn $1.50,
193vf+ (the Fly) $5.95, 193vf $3.95, 193fn $2.50,
193vg $1.25,
194nm- (1st appearance Black Cat) $95, 194vf++ $49, 194vf+ $32, 194vf $24,
195vf/nm (2nd appearance Black Cat) $21,
195vf+ $14,
196vf+ (faked death of Aunt May) $9, 196vf $5.95,
196fn+ $3.95,
197nm- (Kingpin) $18, 197vf/nm $11, 197vf+ $7.95,
198nm (Mysterio) $20,
198vf+ $9,
199nm (Mysterio) $20,
199nm- $17, 199vf/nm $11,
199nm $20, 199vf+ $6.95, 199vf $4.95, 199fn+ $3.50,
200vf+ (giant-sized origin issue) $14, 200fn $7.95, 200vg/fn $3.95,
201vf+, 202vf+ (Punisher issues) $6.95,
203nm- (3rd app Dazzler) $10, 203vf+ $3.95,
204nm (Black Cat) $14,
205nm- (Black Cat) $10, 205vf+ $3.95,
205vf $2.50,
206nm (John Byrne) $15, 206nm- $11, 209vf/nm $6, 209fn $3,
207vf/nm (Mesmero) $5.95, 207vf+ $3.95, 207vf $2.50, 207fn $1.25, 207vg $1,
208nm $14,
209vf+ (origin & 1st appearance Calypso, Kraven) $5.95,
209vf $3.50,
210nm- (1st appearance Madame Web) $75,
211vf/nm (Sub-Mariner) $6.95,
212vf/nm (1st appearance + origin Hydro-Man) $6.95,
213vf/nm (Wizard) $7.95, 213vf+ $3.95,
214vf+ (Frightful Four, Sub-Mariner) $5.50,
215nm- (Frightful Four, Sub-Mariner) $10, 215vf+ $4.50, 215fn+ $1.95,
216vf/nm (return of Madame Web) $7.95, 216vf+ $4.50,
217vf (Sandman & Hydro-Man team-up) $3.95,
218vf+ (Sandman & Hydro-Man) $4.50, 218vf $2.50,
218vg $1,
219vf+ (Grey Gargoyle) $5.50,
220fn/vf (Moon Knight) $3.95,
221vf+ $3.50,
221vg 75¢,
222vf (Speed-Demon) $2.95,
223vf+ (Red Ghost) $3.50, 223vf $2.50, 223fn $1.25,
224vf+ (Vulture) $3.50, 224vf $2.50,
224fn $1.25,
226vf (Black Cat) $3.95, 226fn $1.95,
227vf/nm (Black Cat) $6.50, 227vf+ $3.50, 227vf $2.50,
228vf/nm $4.50, 228vf+ $2.95, 228vf $1.95,
230nm- (Juggernaut) $10,
231vf/nm (Cobra) $4.50,
231vg $1,
232nm- (Mr Hyde, Cobra) $9,
232vf/nm $4.50,
232vf+ $2.95, 232fn $1.50, 232vg 75¢,
233nm- (Tarantula) $9,
233vf/nm $4.50,
233vf+ $2.95, 233vf $1.95,
234vf+ (Will-O'The-Wisp) $2.95, 234vf $1.95,
234fn $1.25,
235vf/nm (origin Will-O'The-Wisp, Tarantula) $4.95, 235vf $2.50,
235fn $1.25,
236nm- (death of Tarantula) $10, 236vf/nm $5.95,
236vf+ $3.50, 236vf $2.50, 236fn $1.25,
237nm- (Stilt Man) $9,
237vf/nm $4.50,
237vf+ $2.95, 237vf $1.95,
238vf-
(1st appearance Hobgoblin) $35,
239nm (2nd appearance of Hobgoblin) $60, 239vf/nm $40, 239vg $6.95,
240nm (Vulture) $10, 240vf/nm $4.50, 240vf++ $3.50, 240vf+ $2.50, 240vf $1.75,
241nm- (origin Vulture) $9, 241vf/nm $3.95, 241vf $1.95,
242nm (Mad Thinker) $10,
243nm- (reintro Mary Jane) $7.95,
243vf/nm $3.50, 243vf++ $2.75,
243vf+ $2.25,
243fn/vf $1.25,
244vf++ (3rd appearance of Hobgoblin) $5.95, 244vf+ $4.95,
245vf+ (4th appearance of Hobgoblin) $4.95,
245vf $2.95,
245fn/vf $1.95,
246nm (Black Cat, Woody Allen) $10, 246nm-$7.95,
246vf/nm $3.50, 246vf+ $2.50,
246vf $1.75,
247nm- $9, 247vf+ $4.95,
248vf+ (Thunderball) $3.50,
248vf $1.95,
249vf+ (Hobgoblin, Kingpin, retells origin & death of Green Goblin) $10,
250vf+ (Hobgoblin) $10,
251nm (Hobgoblin) $18, 251nm- $15, 251vf/nm $9,
251vf+ $6.95, 251fn+ $3.50,
252nm-
(1st appearance Spidey in black costume) $99,
253nm- (1st appearance the Rose) $12.95, 253vf/nm $8.95, 253vf+ $5.95,
254nm- (Jack O' Lantern) $7.95,
255nm- (red Ghost, 1st appearance Black Fox) $8.95, 255vf/nm $5.50, 255vf+ $3.25,
256nm- (1st appearance Puma) $7.95,
256vf/nm $4.95,
257vf+ (2nd appearance Puma) $2.95,
258nm- (
Fantastic Four
, Black Cat, Hobgoblin, Alien costume) $8.95, 258vf+ $4.95,
259nm (Hobgoblin, origin Mary Jane) $12, 259vf+ $2.95, 259vf $1.95,
260vf/nm (Hobgoblin) $4.95,
261nm (Hobgoblin) $12,
262vf/nm (Spider-Man unmasked) $4.95,
262vf+ $2.50,
263vf/nm (1st Normie Osborn/Red Goblin) $21.95,
263vf++ $15.95,
264nm (Red 9) $7.95, 264nm- $6.95, 264vf/nm $3.50,
264vf+ $1.95, 264vf $1.50,
264fn+ $1,
265vf++ (1st appearance
Silver Sable
& Wild Pack) $19.95,
266vf+ (Toad vs Frogman, Spider-Kid) $1.95,
266fn $1,
267vf/nm $3.95, 267vf+ $1.95,
267vg $1,
268, 271, 272, 274 $3.50,
269fn/vf $1,
270vf+,
272vf+,
273vf,
274vf+
$1.75,
275 (Hobgoblin, origin by Ditko) $10,
276nm- (Hobgoblin) $5.95, 276vf+ $2.50,
276vf $1.75,
277-279 $3.50,
281vf+ (Hobgoblin vs Jack O' Lantern) $2.95,
282 (25th Anniversary Cover, X-Factor) $4.50, 282vf+ $2.50,
283 $3.50, 283vf $1.50,
| | | |
| --- | --- | --- |
| | | |
| Amazing Spider-Man #284 | Amazing Spider-Man #293 | Amazing Spider-Man #301 |
284 (Gang War) $6.95,
285,
288
(Gang War) $7.95,
289nm- (52 pages, Hobgoblin's identity revealed, Ned Leeds dies) $20,
289vf/nm $10,
289vf+ $4.95,
290nm (Peter proposes) $6.95,
290nm- $3.95,
291 $4.50,,
292 (MJ accepts Peter's proposal), 296, 297 $3.50,
293, 294 (Mike Zeck, the Last Kraven story) $9.95, 293vf+,
294vf+
$5.95,
298 (1st appearance Eddie Brock cameo) CGC graded 9.6 NM+ $219
298nm- (1st Todd McFarlane Spidey) $89,
300 (origin & 1st full appearance Venom) CGC graded 9.6 $495
301nm- (Silver Sable) $14,
302nm $14, 302nm- $7.95, 302vf/nm $4.95, 302vf+ $3.50,
302vf $2.25,
303nm (Sandman,
Silver Sable
) $14, 303nm- $7.95,
303vf/nm $4.95, 303vf+ $3.50,
303vf $2.25,
304nm (Black Fox) $14, 304nm- $7.95, 304vf/nm $4.95, 304vf+ $3.50,
304vf $2.25,
305nm (Prowler, Black Fox) $14, 305nm- $7.95,
305vf/nm $4.95, 305vf+ $3.50,
305fn+ $1.25,
306nm (Action #1 cover swipe, Humbug) $12, 306nm- $6.95, 306vf/nm $4.95,
306vf++ $3.95, 306vf+ $2.95,
306vf $1.95,
| | | |
| --- | --- | --- |
| | | |
| Amazing Spider-Man #307 | Amazing Spider-Man #313 | Amazing Spider-Man #323 |
307nm (Chameleon) $12, 307nm- $6.95, 307vf/nm $4.95,
307vf+ $2.95,
307vf $1.95,
308vf/nm (Taskmaster) $5.95, 308vf+ $2.95, 308vf $1.95,
308fn+ $1.25,
309nm- (1st appearance Styx & Stone) $8.95, 309vf/nm $5.95,
309vf+ $3.95,
310nm (Killer Shrike) $12, 310nm- $6.95, 310vf/nm $4.95,
310vf+ $2.95,
311nm- (Mysterio, Inferno) $7.95, 311vf/nm $4.95, 311vf $2.50, 311fn $1.50,
312nm (Green Goblin vs Hobgoblin) $20, 312nm- $15, 312vf/nm $9, 312vf+ $4.50,
313nm (Lizard, Inferno) $14, 313nm- $6.95, 313vf/nm $4.95,
313vf+ $2.95,
314nm (Lizard, Inferno) $14, 314nm- $6.95, 314vf/nm $4.95, 314vf $2.50,
315nm- (Venom, Hydro Man) $17,
315vf/nm $10,
316vf/nm (Venom, Black Cat) $17.95,
317vf/nm (Venom, Thing) $10.95,
317vf+ $4.50,
318 (Scorpion) $5.95,
318vf+ $2.95,
319 (Backlash, Scorpion, Rhino)* sale price $2.50,
320 (Paladin, Silver Sable) $4.95, 320vf+ $2.50,
321vf+ (Paladin, Silver Sable) $4.95,
321fn $1.50,
322 $4.95, 322vf+ $2.95,
323 (Captain America, Solo, Silver Sable) $7.95,
| | | |
| --- | --- | --- |
| | | |
| Amazing Spider-Man #324 | Amazing Spider-Man #325 | Amazing Spider-Man #332 |
324 (Sabertooth, Captain America, Silver Sable) $4.95,
324vf+ $2.50,
325 (Red Skull) $5.95,
326 (Graviton) $2.95,
327 (Magneto, Kingpin, Dr Doom, Acts of Vengeance) $4.95,
328 (
Hulk
, Acts of Vengeance, last McFarlane) $11.95,
329 (Loki, Graviton, Acts of Vengeance Aftermath) $1.95,
329vf+ $1,
330 (
Punisher
, Microchip)* sale price $1,
330vf+ 75¢,
331 (Punisher, Venom)* sale price $1.25,
331vf+ 75¢,
332 (
Venom
, Styx & Stone, 1st appearance Jay Leno in comcs) $9.95,
333 (
Venom
, Styx & Stone) $2.50,
334 (2nd appearance of the Sinister Six) $2.50,
335, 336 (Sinister Six)* sale price $1,
| | | |
| --- | --- | --- |
| | | |
| Amazing Spider-Man #337 | Amazing Spider-Man #339 | Amazing Spider-Man #347 |
337, 338, 339 (Sinister Six, Hobgoblin) $1.25, 337vf+, 338vf+, 339vf+ 65¢,
340 (1st appearance Femme Fatales) $1.25,
341 $1.75, 341vf+ 75¢,
342 (Black Cat, Scorpion, 1st appearance Dr Wertham Cardiac) $2.95,
343 (Black Cat, Scorpion, Femme Fatales, Tarantula) $1.50, 342vf+, 343vf+ 75¢,
344nm- (1st appearance Cletus Kasady Carnage, 1st appearance Dr Wertham as Cardiac) $34.95,
344nm (newsstand variant) $49.95, 344nm- (newsstand variant) $39.95, 344vf/nm (newsstand variant) $34.95,
345nm (1st full appearance Cletus Kasady Carnage) $14.95, 345nm- $10.95, 345vf/nm $7.95, 345vf++ $4.95,
346 (Venom) $3.50, 346 (newsstand variant) $4.50,
347 (1st appearance Venom Island) $15.95,
| | | |
| --- | --- | --- |
| | | |
| Amazing Spider-Man #348 | Amazing Spider-Man #352 | Amazing Spider-Man #355 |
348 (
Avengers
) $1.25,
348fn+ 50¢,
349 (Black Fox)* sale price $1,
349vf+ 50¢,
350 (Giant-size, Dr Doom) $1.95,
350vf $1,
351 (
Nova
)* sale price $1,
352vf+ 50¢,
352 (Nova) $1.50,
353 (
Punisher
, Darkhawk)* sale price $1,
353vf+ 50¢,
354-358 (Punisher,
Moon Knight
, Nova, Night Thrasher, Darkhawk) $1.25,
354vf+ 65¢,
359 (Cardiac, Carnage infects Cletus Kasady) $15.95, newstand edition $19,
360vf/nm (Cardiac, 1st appearance Carnage cameo) $14.95,
361vf/nm
(1st full appearance Carnage) $125,
361vf (rare silver variant 2nd print) $1.95,
| | | |
| --- | --- | --- |
| | | |
| Amazing Spider-Man #362 | Amazing Spider-Man #375 | Amazing Spider-Man #381 |
362 (newsstand variant, Carnage, Venom, Human Torch) $22.95,
363 (Carnage, Venom, Human Torch) $6.95,
364* sale price $1, 364vf 75¢,
365 (silver hologram, 1st appearance Miguel O'Hara/Spider-Man 2099) $20.95,
366vf+ (Red Skull, Viper, Taskmaster) $1.25,
367 (Red Skull, Viper, Taskmaster) $1.95,
368 $1.25,
369 $1.50, 369vf+$1,
370 $1.75,
371 $1.95,
372 $1.50,
373 (Venom) $1.25,
374 (Venom)* sale price $1,
375 (giant-sized, holographic foil, Venom, Wild Pack, 1st appearance Anne Weying) $29,
376 (Styx & Stone, Cardiac)* sale price $1,
377 (Cardiac, origin Styx) $1.25, 377vf+ 75¢,
378 (Carnage, Venom, Demogoblin, Maximum Carnage) $9.95,
379 (Carnage, Venom, Demogoblin, Deathlok, Morbius, Shriek, Maximum Carnage) $5.95,
380 (Carnage, Venom, Demogoblin, Deathlok, Captain America, Iron Fist, Maximum Carnage) $6.95,
381 (Hulk, Doc Samson) $1.95, 381vf+ $1,
382 (Hulk, Doc Samson)* sale price $1,
383 $1.50, 383vf+, 387vf+ $1,
384 (Venom) $1.50, 384vf+ $1,
385, 386 $1,
387 (Vulture, Chameleon) $1.75,
388 (Foil Collector's Edition) $2.95, 388vf+ $1.50,
389-391 $1.50, 391vf+ $1,
392 (Amazing Spider-Man #50 homage cover) $3.50, 392fn+ $1.50,
393 $1.75, 393vf+ $1,
394 (double-sized, silver foil, 1st appearance Scrier) $3.95,
395 $1.50,
396 (Daredevil, Owl, Vulture) $1.95, 396vf+ $1,
397 (double sized flip book) $2.50,
399 (Jackal) $1.25,
400 (embossed cover, death of Aunt May) $5.95,
401 (Scarlet Spider, Kaine) $1.95,
402 (Scarlet Spider, Traveller, Scrier) $1.75, 402vf+ 50¢,
403 (Carnage) $1.50, 403vf+ 75¢,
404 (Maximun Clonage) $1.50,
405 (Scarlet Spider, 1st appearance Lady Octopus) $3.50,
406 (1st full appearance Lady Octopus) $3.50,
407 $1.50,
408 (1st appearance Spider-Carnage) $9.95,
409 $1.50,
410 (Web of Carnage) $1.75, 410vf+ $1,
411 (Thomas & Martha Wayne saved by Spider-Man) $2.95,
412, 413 $1.50, 412vf+ 85¢,
417vf+ $1,
418vf/nm (birth of Peter & Mary Jane's baby) $5.95,
419vg (1st appearance Black Tarantula) $1,
420vf+ $1,
424 (Elektra) $1.50,
426 (Lady Octopus, the Hand) $1.75,
427 (Dr Octopus) $1.50, 427vf+ $1,
429 (Daredevil, Green Goblin, Absorbing Man) $1.75,
........becomes Amazing Spider-Man (Vol. 2) 1-44
486 (Dr Octopus) $1.50,
488, 489, 490 $1.50,
491 (Captain America, Dr Doom) $1.95,
492, 496 $1.50,
498 (Avengers, Fantastic Four) $1.95,
499 (Avengers, Fantastic Four, Dr Strange) $1.95,
500 (double-sized, Sandman, Lizard, Vulture, Electro, Dr Strange...) $9.95,
501, 502, 505 $1.50,
509 (1st appearance Gabriel Stacy/American Son/Gray Goblin) $2.50,
510 (Sins Past) $1.95,
512 (Sins Past, Norman Osborn, Gwen Stacy) $1.95,
514 (Sins Past, Gray Goblin) $1.95,
517 $1.50,
524 (New Avengers Part 6: All Fall Down) $1.75,
535, 536 (Civil War) $1.75

Amazing Spider-Man
Annual #12

Amazing Spider-Man Annual #14

Amazing Spider-Man Annual #21
Amazing Spider-Man Annual
2gd/vg
(Dr Strange) $49,
5fn/vf
(1st appearance Peter Parker's parents, Red Skull) $39,
9vf (40 page Green Goblin story) $19
,
10vf/nm (origin Human Fly, Gil Kane) $7.95, 10fn $3.25, 10vg $1.95,
11vf (1st John Romita Jr art) $3.95,
12vf/nm (Spidey vs
Hulk
, Romita & Kane) $9.95, 12vf+ $4.95,
12vf $3.95,
12vg $1.25,
13vf/nm (Doc Octopus, Byrne & Austin) $7.95,
13vg $2
,
14nm- (Dr Strange & Dr Doom,
Frank Miller
) $12,
14vf/nm $5.95, 14vf+ $3.50,
15vf+ (Punisher, Dr Octopus, Frank Miller) $9
,
16nm- (origin & 1st appearance new Capt Marvel, Avengers, Thing) $6.95,
17vf (Kingpin) $1.95,
18vf/nm (Scorpion, JJJ weds, Stan Lee) $3.50, 18vf+ $1.75,
18fn+ $1,
19vf (1st appearance Alistaire Smythe the Spider Slayer) $2.95,
20vf/nm (origin Iron Man 2020) $2.95,
21vf/nm (Spidey marries MJ) $11.95,
21vf+ $6.95,
22nm- (
Daredevil
, Kingpin, 1st appearance
Speedball
) $14.95,
22vf+ $7.95,
Amazing Spiderman Annual 23

(Spider-Man's origin retold,

Rob Liefeld, Fred Hembeck) 85¢

Amazing Spiderman Annual 24

(Gil Kane, Steve Ditko,

Mike Zeck) 85¢
23 (Spider-Man's origin retold, Rob Liefeld, Fred Hembeck) 85¢, 23vf+ 65¢,
24 (Ant-Man, the Thing, Gil Kane, Steve Ditko, Mike Zeck) 85¢,
25 (Iron Man, Panther, Venom) 85¢,
26 (New Warriors, Venom, Cloak & Dagger) $1.25
Amazing Spider-Man (Vol.2)
12 (Byrne art, double-sized, Sinister Six) $2.50,
14 (Byrne art, Spider-Woman) $1.95,
23 $1.95,
25 (holo-foil cover, Peter Parker becomes Green Goblin) $2.95,
28 (Enforcers) $1.75,
31 (Morlun) $1.75,
40 $1.50,
42 (Dr Strange) $1.75,
43, 44, 45 (Dr Octopus) $1.50
Amazing Spider-Man AimToothpaste Giveaway (Green Goblin) $2
Amazing Spider-Man & Power Pack (giveaway) $1.50

Deadly Foes of Spider-Man 1* FREE, 2-4 $1
Giant-Size Spider-Man (1974)
1vf (Dracula, Human Torch, 1st appearance Equinox) $14.95,
3vg/fn (1st Doc Savage cross-over) $1.95,
6vf/nm (Human Torch, Mysterio) $17.95, 6vf $7.95, 6fn/vf $5.95, 6fn $3.95,
Giant-Size Super-Heroes (1974)
1vf+ (Spider-Man, Morbius, Man-Wolf) $25, 1fn $5.95
Green Goblin (green foil cover) $1.50
| | | |
| --- | --- | --- |
| | | |
| Marvel Tales #138 | Marvel Fanfare #1 | Nova #12 |
Marvel Fanfare
1 (Spider-Man, Angel, Ka-zar, Daredevil) $4.95,
2 (Spider-Man, Angel, Ka-zar) $2.50,
3 (X-Men, Ka-zar) $2.95,
4 (X-Men, Ka-zar)* sale price $1.25, 4vf 75¢
Marvel Knights Spider-Man (2004)
1 (Green Goblin) $2.25,
7, 8 (Venom) $1.75
Marvel Spotlight
32 (origin & 1st appearance Spider-Woman) CGC 9.4 NM $459
Marvel Super-Heroes (1967)
13fn (Captain Marvel, 1st appearance Carol Danvers) $125
14vg/fn (Spider-Man, Captain America, Bucky, Human Torch, Sub-Mariner) $9.95
Marvel Tales
16fn+ $3,
98vf/nm (reprints Amazing Spider-Man 121, Death of Gwen Stacy, Green Goblin) $45,
98vf++ $35, 98vf+ $25,
137 (unabridged reprint of Amazing Fantsy #15) $1.95,
138 (unabridged reprint of Amazing Spider-Man #1) $1.95,
Marvel Team-Up (1972, Spider-Man)
1 CGC graded 9.2 NM- $250

1vf (Human Torch, Sandman, 1st appearance Misty Knight) $89,
1vf- $65, 1fn $45, 1vg/fn $35,
2nm (Human Torch, Frightful Four, Annihilus) $45,
2nm- $33, 2vf/nm $26, 2vf+ $19, 2vf $16, 2fn/vf $11, 2fn+ $8.95,
3vf/nm (Human Torch, 3rd appearance Morbius) $65,
3vf+ $39, $39, 3vf $29, 3fn/vf $19, 3fn $11.95,
4vf/nm (X-Men, Harry Osborn, 4th appearance Morbius) $39,
4vf+ $29, 4fn/vf $14.95, 4fn $9.95,
5vf/nm (Vision, Puppet Master, Harry Osborn, Gil Kane art) $24.95,
5vf+ $19.95, 5vf $14.95, 5fn/vf $9.95, 5fn $5.95, 5vg/fn $3.95, 5vg $2.50,
6-19...higher grade available upon request
6fn/vf (Thing, Puppet Master, Mad Thinker) $8.95,
7fn/vf (Thor, the Watcher) $8.95,
8vf+ (Cat, 1st appearance Man-Killer/Amazon) $16.95, 8fn $5.95,
9fn/vf (Iron Man, Kang, Avengers) $8.95,
10fn/vf (Human Torch, Kang, Avengers) $7.95,
12fn (Werewolf by Night) $3.95,
19vf++ (Ka-Zar, 1st appearance Stegron) $3.95, 19vf+ $2.95,
20fn (Black Panther) $1.95,
21fn/vf (Doctor Strange) $1.50,
24vf+ (early appearance Brother VooDoo) $3.50,
25vf+ (Daredevil) $2.95,
26vf+ (Human Torch, Thor) $2.95,
28vf (Hercules) $2.50,
30vf (Falcon) $2.50,
31vf/nm (Iron Fist) $2.95,
32vg (Human Torch, Son of Satan) 75¢,
34vf/nm (Valkyrie) $2.50, 34fn/vf $1.25,
35vf (Human Torch, Dr Strange) $1.95, 35fn $1,
36vf (Frankenstein) $1.95,
37vf+ (Man-Wolf)* sale price $1.25, 37fn/vf 85¢,
39fn (Human Torch) $1,
40vf+ (Human Torch)* sale price $1.25,
41vf/nm (Scarlet Witch)* sale price $1.95, 41vf+ $1.25,
42vf/nm (Vision, Scarlet Witch) $1.95, 42vf+ $1,
43nm- (retells Dr Doom origin, Vision, Scarlet Witch) $4.95,
43vf/nm $2.95, 43vf $1.50,
45vf/nm (Killraven)* sale price $1.95, 45vf+ $1,
46vf (Deathlok) $1.95, 46fn $1,
47vf/nm (Thing, Basilisk)* sale price $1.95,
47vf+ $1.75, 47vf $1.50, 47fn/vf $1.25, 47fn $1,
48nm- $4.95, 48vf/nm (Iron Man)* sale price $1.95, 48vf+ $1.25,
50vf/nm (Doctor Strange)* sale price $1.95, 50vf $1,
51vf/nm (Iron Man) $2.50,
52vf/nm (Captain America, Batroc)* sale price $1.95, 52vf+ $1.25,
54vf/nm (Hulk, John Byrne) $3.50, 54vf+$1.95, 54vf $1.50, 54fn/vf $1.25, 54fn 95¢,
55vf/nm (Warlock, Stranger, 1st appearance Gardener, John Byrne) $5.95,
56vf/nm (Daredevil, Electro) * sale price $1.95, 56vf+ $1.50, 56vf $1.25,
57nm (Black Widow, Silver Samurai) $7.95, 57nm- $5.95, 57vf/nm $2.50,
57vf+* sale price $1.25, 57vf $1, 57fn/vf 85¢, 57fn 75¢,
58nm- (Ghost Rider, Trapster) $5.95, 58vf/nm $2.50, 58vf+* sale price $1.25, 58vf $1, 58fn 85¢, 58vg 75¢,
59nm- (Yellow Jacket, the Wasp, Chris Claremont & John Byrne) $5.95,
59vf/nm* sale price $1.50, 59vf+ $1.25, 59vf $1, 59fn/vf 85¢, 59fn 75¢,
60vf+ (Yellowjacket, Wasp, origin Equinox, Claremont & Byrne) $2.50,
61vf/nm (Human Torch, Super Skrull, Tigra, Claremont & Byrne) $2.50,
61vf+ $1.95, 61fn/vf $1.25, 61fn $1,
62vf/nm (Ms. Marvel, Super Skrull, Tigra, Claremont & Byrne) $2.50, 62fn/vf $1,
63vf/nm (Iron Fist, Misty Knight, Steel Serpent, Claremont & Byrne) $2.95,
64nm- (Iron Fist, Misty Knight, Colleen Wing, death of Steel Serpent, Claremont & Byrne) $4.95,
64vf/nm $2.50, 64fn/vf $1.25,
65vg/fn (1st U.S. appearance Captain Britain, 1st appearance Arcade, Claremont & Byrne) $1.95,
66nm- (2nd U.S. appearance Captain Britain, Arcade, Claremont & Byrne) $5.95,
66vf/nm $2.50, 66vf+ $1.75,
67vf/nm (Tigra, Kraven the Hunter, Claremont & Byrne) $2.95, 67vf+ $1.95,
67fn (British variant cover) $2.95,
68vf/nm (Man-Thing, 1st appearance D'Spayre, Claremont & Byrne) $3.50, 68vf+ $1.95, 68fn $1,
69vf/nm (Havok, Polaris, Beast, Thor, Claremont & Byrne) $2.50, 69fn/vf $1.25, 69fn $1,
70vg/fn (Thor, Havok, Claremont & Byrne) 95¢,
71nm- (Falcon, Captain America, Nick Fury) $3.95, 71vf/nm $1.95, 71vf+* sale price $1.25,
72nm- (Iron Man, Whiplash, the Wraith) $3.95, 72vfnm $1.95, 72vf+* sale price $1.25, 72vf $1,
73vf+ (Daredevil, the Owl) $1.75,
74nm (Saturday Night Live cast, Stan Lee, Silver Samurai) $5.95,
74nm- $3.95, 74vf+* sale price $1.25,
75nm- (Luke Cage Power Man, John Byrne) $4.95, 75vf/nm $2.50, 75vf+* sale price $1.25, 75vf $1, 75fn 85¢,
76vf/nm (Doctor Strange, Ms. Marvel, Silver Dagger, Howard Chaykin) $1.95, 76vf+ $1.50,
78vf/nm (Wonder Man, the Griffin) $1.95,
79nm+ (Red Sonja, Clark Kent cameo, Chris Claremont & John Byrne) $29,
79nm $8.95, 79nm- $6.95,
80nm- (Doctor Strange, Basilisk) $3.95,
81nm (Doctor Strange, Basilisk, death of Satana) $5.95, 81nm- $3.95, 81vf/nm $1.95,
83vf/nm (Nick Fury, Black Widow, Silver Samurai) $1.95,
84nm- (Shang-Chi, Nick Fury, Black Widow, Viper, Boomerang) $3.95, 84vf/nm $1.95,
86nm (Guardians of the Galaxy, Hammer & Anvil) $6.95, 86nm- $4.95,
87vf+ (Black Panther, Gene Colan) $1.50,
88nm- (Invisible Girl, Maggia) $3.95, 88vf/nm* sale price $1.50, 88vf+ $1.25, 88fn $1,
89fn/vf (Nightcrawler, Arcade, 1st appearance Cutthroat) $1.25,
90-91...available upon request
92vf++ (1st appearance Mr Fear) $2.50
93-94 ...available upon request
95vf (1st appearance Mockingbird) $2.95,
96 (Howard the Duck) $1.95,
97 ...available upon request
98vf/nm (Black Widow, the Owl) $1.95,
99 ...available upon request
100vf+ (origin & 1st appearance Karma, Frank Miller, origin Storm, John Byrne) $3.95,
101 available upon request
102 (Doc Samson, Rhino)*sale price $1,
103vf (3rd appearance Taskmaster) $1.50,
104 (Modok, Hulk, Ka-zar)*sale price $1,
105-125 available upon request
126vf+ (Hulk, Luke Cage Powerman, Son of Satan) $1,
127-130 available upon request
131vf+ (Frog Man, 1st appearance White Rabbit) $7.95,
132-139 available upon request
140nm- (Black Widow, Daredevil) $2.95, 140vf/nm $1.95, 140vf+ $1,
141nm- (1st appearance Spider-Man black costume, Daredevil, Black Widow, Kingpin) $55,
142-146 available upon request
147vf+ (Human Torch, Black Abbott) $1,
148-149 available upon request
150 (X-Men, Final issue) $3.95, 150vf+ $2.95, 150fn/vf $1.50
Morbius: The Living Vampire (1992)
1 (Collector's Edition, still sealed with poster, Ghost Rider, Spider-Man) $7.95,
2 (Spider-Man) $1,
3 (vs Spider-Man) $1.50
Nova (1976)
12nm- (Spider-Man) $7.95, 12vf/nm*sale price $2.95, 12fn/vf $1.50,
Peter Parker Spider-Man (1999, takes the place of Spider-Man Vol 1)
1 $2.95,
2 (Thor), 3 (Iceman), 5, 6 (Kingpin) $1.95,
15 (Dr Doom) $1.95,
21 (Human Torch), 22, 24 $1.50,
25 (Green Goblin, double issue) $2.50,
26 (Green Goblin appearance) $1.75,
30, 31, 35 $1.50,
40 (Dr Octopus, Fury) $1.50,
39, 42, 43, 49 $1.25,
44 (Green Goblin, Jay Leno) $1.95,
45, 46, 47 (Green Goblin issues) $1.75,
50 (giant size, Rhino, Hammerhead) $2.50,
52 (Shocker, Hydro-Man) $1.25,
54 (Scorpion), 55 $1.25
Secret Wars (1984)
8 (origin alien symbiote that becomes Venom) CGC graded 9.8 NM/M $649
8nm (1st appearance Venom as Spider-Man's alien costume) $65,
Sensational Spider-Man
1* sale price $1, 1vf+ 75¢,
2, 4, 7, 10* sale price 85¢,
13 (Ka-Zar) $3.50,
16, 17, 19, 20, 21* sale price 85¢,
22 (Dr Strange) $1.50,
26 (Sandman, Hydro) $1.50, 26vf+ 75¢,
29 (Black Cat) $1.50,
30 (Black Cat, Arcade) $1.50,
31 (Rhino) $1,
32 $1.25
Spectacular Spider-Man (1976)
1 (Tarantula, 1st appearance of Edward Lansky/Lightmaster) CGC 9.6 NM+ $119
1nm (Tarantula, 1st appearance of Edward Lansky/Lightmaster $29,
1nm- $19, 1vf/nm* sale price $9.95, 1vf++ $7.95, 1vf+ $5.95, 1vf $4.95,
1fn/vf $3.50, 1fn $2.95, 1vg/fn $2.50,
2nm (Kraven the Hunter, Tarantual) $10.95,
2nm- $7.95, 2vf/nm* FREE with $40 purchase,
2vf+ $2.95, 2vf $1.95, 2fn/vf $1.75, 2fn+ $1.50, 2vg/fn $1,
| | | |
| --- | --- | --- |
| | | |
| Spectacular Spider-Man #5 | Spectacular Spider-Man #6 | Spectacular Spider-Man #8 |
3nm (Tarantula, Lightmaster) $10.95, 3vf/nm $3.95, 3vf+ $2.50,
3vf $1.95,
3fn/vf $1.50,
3fn $1.25, 3vg/fn $1,
4nm- (Vulture, 1st appearance Hitman) $6.95, 4vf/nm $3.95, 4vf++ $3.25,
4vf+ $2.50,
4fn $1,
5nm- (Vulture, Hitman) $6.95, 5vf/nm $3.95, 5vf+ $2.50,
6nm- (Morbius, Fantastic Four) $7.95, 6vf/nm $5.95, 6vf+ $3.95, 6vf $2.50,
6fn $1.25,
7nm- (Morbius) $7.95, 7vf/nm $3.95, 7vf+ $2.50, 7vf $1.95, 7fn/vf $1.50,
8nm- (Morbius) $6.95, 8vf/nm $3.95, 8vf+ $2.50, 8vf $1.95, 8fn/vf $1.50,
8fn $1,
9vf/nm (1st color comic appearance White Tiger) $19.95,
10nm- (White Tiger) $6.95, 10vf/nm $4.95, 10vf+ $2.50, 10vf $1.50,
11vf/nm (Inhumans) $3.95, 11vf+ $2.50,
12vf/nm (Brother Power, Sister Sun, 1st appearance Razorback) $3.95, 12vf+ $2.50, ,
13fn $1,
14vf/nm $3.95
15vf+ $2.50, 15vf $1.75, 15fn $1,
17fn (Angel & Iceman) $2.95,
18vf (Angel & Iceman) $3.95,
18vg $1,
19 $2.50, 19vf+ $1.25, 19vf 75¢,
20vf/nm $2.95, 20vf++ $1.95,
21fn+ $1.25,
22nm- (
Moon Knight
) $7.95,
22vf $1.95,
23vf+ (Moon Knight) $2.50,
24 $2.95, 24vf+ $1.50,
24fn/vf $1,
25vf+ $2.25,
26nm (
Daredevil
) $7.95, 26fn+ $1.50,
27vf (Daredevil, 1st Frank Miller art on DD) $12,
28vf+ (Daredevil, Frank Miller) $12, 28fn/vf $5.95,
29fn/vf $1,
33nm- (Lizard) $3.50,
33vf+ $1.75,
34vf+ $1.75,
34fn+ $1,
35nm- $3.50,
36,
37,
39, 41, 44 $2.50,
37vf+, 39vf+ $1.25,
42vf (Frightful Four, Mike Zeck) $1.95, 42fn $1,
43vf++ (1st appearance Roderick Kingsley/Hobgoblin) $5.95,
45vf+ $1.50,
46vf/nm (Cobra, Mike Zeck) $2.95,
47-50 $2.50, 47vf+, 48vf+, 50vf+ $1.25,
48vf 75¢,
| | | |
| --- | --- | --- |
| | | |
| Spectacular Spider-Man #54 | Spectacular Spider-Man #55 | Spectacular Spider-Man #60 |
51 (Mysterio) $1.95,
52 (White Tiger) $2.50,
54 $1.95,
55 (Nitro, Frank Miller cover) $1.95,
56 (2nd appearance Jason Macendale Jack-O-Lantern/Hobgoblin) $4.95,
56vf+ $2.95,
57 (Will O' the Wisp) $1.95,
58 (Ringer, Beetle,
John Byrne art
) $2,
59 (Gibbon, Beetle) $1.95,
60 (double size, origin re-told) $2.95, 60vf++ $1.95,
64vf+ (1st Cloak & Dagger) $6.95, 64fn- $2.50,
65, 66, 68 $1.50,
| | | |
| --- | --- | --- |
| | | |
| Spectacular Spider-Man #70 | Spectacular Spider-Man #72 | Spectacular Spider-Man #81 |
69 (2nd appearance Cloak & Dagger) $9.95,
70 (3rd appearance Cloak & Dagger) $5.95, 70vf+ $3.50, 70fn $1.95,
71 $1.50,
72 (1st appearance Ollie Osnick/Steel Spider) $3.50,
74 (early Black Cat) $2.95,
75 (double size, early Black Cat) $3.50,
76 (Black Cat) $2.95,
77, 80 $1.50, 77fn/vf 85¢,
81 (Cloak & Dagger) $2.50,
82 (Cloak & Dagger, Kingpin, Punisher) $2.50,
83 (Cloak & Dagger, origin Punisher) $2.95,
| | | |
| --- | --- | --- |
| | | |
| Spectacular Spider-Man #85 | Spectacular Spider-Man #87 | Spectacular Spider-Man #101 |
84 (Black Cat) $1.95, 84vf 85¢,
85vf/nm (Hobgoblin) $5.95, 85vf $2.95,
85vf (Hobgoblin, signed by Al Milgrom) $3.95,
86 (Hembeck), 88 $1.25,
89 (Black Cat) $1.95,
89vf+ (signed by Al Milgrom) $2.50,
90vf++ (new black costume) $24.95, 90vf+ $19.95,
91, 92 $1.25,
93 $1.95,
94-97 $1.25,
98 (1st appearance the Spot) $3.50,
99 $1.25,
100 (double size) $1.95, 100fn/vf $1,
| | | |
| --- | --- | --- |
| | | |
| Spectacular Spider-Man #102 | Spectacular Spider-Man #109 | Spectacular Spider-Man #119 |
101 $8.95, 101vf+ $5.95,
102, 103 $1.95, 103vf+ $1,
104-106* sale price $1,
107 (1st appearance Sin-Eater) $2.50,
109vf++ $1.50,
111-114* sale price $1,
115 (Dr Strange) $1.50,
117 (Dr Strange & Black Cat) $1.50,
116, 119 (both Sabertooth issues) $2.95,
| | | |
| --- | --- | --- |
| | | |
| Spectacular Spider-Man #127 | Spectacular Spider-Man #131 | Spectacular Spider-Man #135 |
118* sale price $1,
120 (25th Anniversary Cover) $1.95,
124-125, 127, 129* sale price $1,
126 (
Spider-Woman
) $1.50,
128 (
Daredevil
, Black Cat) $1.50, 128vf 85¢,
130 (Hobgoblin) $2.95,
131 (Mike Zeck, Final Kraven story) $6.95,
132vf+ (Mike Zeck, Final Kraven story) $1.95,
133-135* sale price $1, 133vf+ 75¢,
136 (1st appearance Sin-Eater) $2.50,
137* sale price $1,
138 (1st full appearance Tombstone,
Capt. America
) $6.95,
139 (origin Tombstone) $1.50,
140 $1.50, 140vf 75¢,
141-143 (
Punisher
issues) $1.50, 143fn 65¢,
144-145* sale price $1, 144fn, 145vf+ 75¢,
146 (Hobgoblin, Green Goblin, Inferno) $1.75,
147 (1st new Hobgoblin) $14.95,
| | | |
| --- | --- | --- |
| | | |
| Spectacular Spider-Man #148 | Spectacular Spider-Man #152 | Spectacular Spider-Man #163 |
148 (1st zombie Spider-Man) $3.50,
149 (1st appearance Carrion) $3.95,
150 -157 $1,
158 (1st appearance Cosmic Spidey), 159 $5.95, 159vf $2.95,
160 $1,
160vf 50¢,
161, 162 (Hobgoblin issues) $1.50,
163 (Hobgoblin, Carrion) $1.75, 163vf 90¢,
165-167* sale price 85¢,
| | | |
| --- | --- | --- |
| | | |
| Spectacular Spider-Man #170 | Spectacular Spider-Man #179 | Spectacular Spider-Man #184 |
168-170 (
Avengers
x-over) $1.50, 168vf+, 170vf 85¢, 170fn 60¢,
171vf $1,
172 $1.50,
173-175* sale price $1,
176, 177 (Spider-Man fights Corona Fever) $19.95,
179* sale price $1,
180-184 (Green Goblin issues) $1.50,
181vf+ 75¢,
| | | |
| --- | --- | --- |
| | | |
| Spectacular Spider-Man #186 | Spectacular Spider-Man #200 | Spectacular Spider-Man #201 |
185-188 $1.25,
189 (hologram, Green Goblin) $1.95,
191 $1.25, 192, 193, 195 $1.50, 192vf+ 75¢,
196 $1.25,
197-198 (Original
X-Men
issues) $1.50,
200 (double-sized, Holo-grafx Foil Cover, Green Goblin) $1.50,
200vf+ 75¢,
201 (Maximum Carnage) $7.95,
202 (Maximum Carnage),
203 (Maximum Carnage) $6.95,
204-206, 208, 210, 211, 213* sale price $1,
209 (Punisher) $1.50,
207vf, 210vf, 214vf, 218vf+ 50¢,
217 (double-sized, foil cover) $2.50,
218vf+ 75¢,
219vf (
Daredevil
) $1,
221, 222* sale price $1,
223 (die-cut) $2.50, 223fn (die-cut) 75¢,
224 (Scarlet Spider, Kaine, Traveller) $1.95,
225 (Goblin Holodisk) $2.50,
225fn (Goblin Holodisk) $1,
226,
228, 230, 232* sale price $1,
229 (giant-sized, acetate cover) $2.75,
229 (regular cover) $1.50,
231 (Scarlet Spider, Kaine, 1st appearance Muse) $1.95,
233 (Web of Carnage) $2.50,
234 (Hobgoblin) $1.50,
235,
236, 237, 238, 240-242, 244, 246, 248, 249* sale price $1,
247 (Jack O'Lantern) $1.50,
250 (double-sized, Green Goblin) $2.95,
251, 253 $1,
259 (Goblin Gate, Green Goblin) $1.75,
260 (Goblin Gate, Green Goblin & Hobgoblin) $1.75
,
262 (Gathering of Five) $1.50
Spectacular Spider-Man Annual
1 $4.95,
2 $1.95, 2 (tear in back cover) 60¢,
4vg/fn 85¢,
5-8 $1.50,
9 75¢,
10 (Todd McFarlane)* sale price $1,
11 (
Iron Man
,
Panther
, Kingpin, Hembeck)* sale price 75¢
Spectacular Spider-Man Super Special
1 (Planet of the Symbiotes, Venom, Carnage) $2.50
Spectacular Spider-Man
(2003)
1 (Venom) $3.50, 3 $1.75
Spider-Girl 1 $3.50
Spider-Man #6 & 7
Both contain Hob-goblin and Ghost Rider by Todd McFarlane $1.50
Spider-Man (1990, Vol. 1)
1 (green) $3.50, 1 (black & silver) $5.95,
2-4 (Torment saga, Lizard, Calypso)* sale price $1,
5 (final chapter of Torment, Lizard, Calypso) $2.50,
6, 7 (Hob-goblin, Ghost Rider) $1.50, 6vf+, 7vf+ 85¢,
8-12 (Wolverine storyline) $1.50, 9vf 85¢,
13 (Black costume, Morbius) $2.95, 13vf++ (newsstand variant) $8.95,
14 (Morbius) $2.95, 14 (newsstand variant) $4.95,
15 (Beast), 16 (X-Force, last McFarlane issue)* sale price $1,
15vf+, 16vf 75¢,
17 (Thanos, Infinity Gaunlet, Infinity Gems) $3.50, 17vf+ $1.95,
18 (Ghost Rider, newsstand variant)* sale price $1.50, 18vf+ newsstand $1,
19 (Hulk & Hobgoblin) $1.25, 19 newsstand variant $2.95,
20 (Sinister Six) $1.95,
21 (Deathlok) $1.95,
22 (Hulk & Hobgoblin) $1.25, 22vf+85¢,
23 (Hulk, Hobgoblin, Ghost Rider, Deathlok, Fantastic Four) $1.95,
24 (Demogoblin battles Hobgoblin) $1.50, 24vf+ $1,
25 (Excalibur)* sale price $1.25, 25fn/vf 85¢,
26 (silver hologram, re-tells Spidey's origin) $1.95, 26vf $1,
27 (Marshall Rogers art)* sale price $1, 27vf+ 75¢,
28 (Marshall Rogers art) $1.50, 28vf+ $1,
29, 30* sale price $1, 29vf+, 30vf+ 75¢,
31fn+ 75¢,
32, 33, 34 (Punisher issues) $2.50, 32vf+, 34vf+ $1.50, 32vf $1,
35 (Maximum Carnage) $7.95,
36 (Maximum Carnage) $5.95, 36vf $2.95,
37 (Maximum Carnage) $4.95,
38 (Electro) $1.75,
39 (Electro)* sale price $1,
40 (Electro) $1.50,
41, 42 (Iron Fist, Jae Lee art) $1.50, 41vf+ $1,
43vf+ (Iron Fist, Jae Lee art) $1.50,
44 (Hobgoblin) $1.95, 44vf+ $1.25,
45 (Chameleon) $1.50,
46 (Hobgoblin, Demogoblin) $2.95,
47 $1.50,
48 (Hobgoblin, death of Demogoblin) $2.95,
49vf+ (1st appearance Coldheart) $1.50,
50 (giant-sized) $2.50, 50vf+ $1.25,
51vf+ (deluxe foil flip book) $2.50,
52, 53 (both issues Venom) $1.95,
54 (double-sized Flip Book) $1.50, 54vf+ 75¢,
55 (Scarlet Spider, Kaine) $1.95,
56 $1.50,
57vf+ (die-cut cover) $1.50,
58 (Scarlet Spider, Kaine) $1.95,
59 (Scarlet Spider, Scrier, Traveller) $1.95,
60 (Scarlet Spider, Kaine unmasked) $1.95,
61 (Maximum Clonage) $1.95,
62, 63, 64, 65, 66 $1.95,
67 (Web of Carnage) $1.50,
68, 69 (both issues Hobgoblin) $1.95,
70, 71, 73, 76 $1.95,
72 (Onslaught, Sentinels) $2.25,
74vf+ (Daredevil) $1,
75 (Green Goblin, double sized) $2.50,
76 (1st appearances of S.H.O.C. & Hunger) $2.95,
77, 78, 79 (Morbius) $1.95,
80 (Morbius) $1,
90 (Shoc, Blaastar) $1.95,
93 (Ghost Rider) $1.75,
94 (Ox, Kingpin, Watcher, Silvermane) $1.95,
97 (Green Goblin) $1.95
Batman & Spider-Man (Graphic Novel) $2.95
Spider-Man & Batman (Graphic Novel) $2.95
Spider-Man and the Black Cat (Kevin Smith) 1-3 $2.50
Spider-Man: Blue (Jeph Loeb, Tim Sale) 1 $1.95, 2fn 75¢, 4, 5, 6 $1.25
Spider-Man: Chapter One 1-6 (John Byrne) $1.50
Spider-Man/Daredevil (2002) 1 $1.95
Spider-Man: Lifeline (Nicieza & Steve Rude) 1-3 $1.50
Spider-Man: The Lost Years 1 (red foil) $1.50
Spider-Man: Soul of the Hunter (graphic novel) $1.50
Spider-Man Team-up 1 (X-Men, Mark Waid, Tom Peyer) $1
Spider-Man 2099 (Peter David)
1 (red foil cover, 1st appearance Miguel O'Hara/Spider-Man 2099) $9.95,
2-13 $1,
16, 18 $1.25
Spider-Man Unlimited
1 (1st appearance Shriek, Maximum Carnage) $11.95,
2 (Maximum Carnage) $2.50,
3 (Dr Octopus) $1.50, 3vf 85¢,
4 (Mysterio, Bloodshed, Rhino) $1.50,
5 (1st appearance Steel Spider) $3.95,
6 (Thunderstrike, Hydro-Man, Luke Cage) $1.50,
9 (Sinister Six, Hobgoblin) $2.95,
12 (Jack O'Lantern) $1.50,
18 (Dr Octopus) $1.50
Spider-Woman (1978)
1nm- (origin, Marv Wolfman, Carmine Infantino) $69, 1vg/fn $10.95,
2 (Morgan Le Fay) $4.95, 2vf++ $3.95,
3vf+ $2.50, 3vf $1.50,
4vf (Brothers Grimm, Hangman) $1.50,
5nm- $2.95, 5vf/nm $1.95, 5vf+ $1.50, 5fn/vf $1,
6 (Werewolf by Night, Morgan LeFay) $2.95, 6vf+ $1.95, 6vg 85¢,
7vf (Brothers Grimm) $1.50,
8vf+ $1.95, 8vf $1.50,
9 (1st appearance the Needle) $1.95, 9vf+ $1.25,
10 (1st appearance Gypsy Moth) $1.95, 10fn $1,
11fn/vf (Madame Doll, Brothers Grimm) 85¢,
12vf+ (Madame Doll, Brothers Grimm) $1.25,
13vf+ (the Shroud) $1.25, 13fn/vf 85¢, 13fn 75¢,
14fn, 15fn (the Shroud) 85¢,
16vf++ (Nekra) $1.50,
17vf (1st appearance Waxman) $1,
18 (Waxman) $1.50, 18vf+ $1,
19vf+ (Werewolf by Night, Enforcer) $1.25, 19fn/vf 85¢,
20 (Spider-Man) $1.95,
21vf (1st appearance Scotty McDowell/Hornet) $1.50, 21fn/vf $1,
22fn/vf (Killer Clown) 85¢,
23vf (Gamesman) $1, 23fn/vf 85¢,
24vf (Gamesman) $1,
25fn/vf (Gamesman) 85¢,
26vf+ $1,
27 (Enforcer) $1.50, 27vf+ 85¢,
28 (Spider-Man) $1.95,
30vf (Fly, 1st appearance Karlin Malus) $1.25,
31 (1st appearance the Hornet) $1.75, 31vf $1.25,
32 (Werewolf by Night, Universal Monsters cover) $1.95, 32vf+ $1.25,
33fn/vf (1st appearance Forever Man) $1,
34vf+ (Hammer & Anvil) $1, 34vf 85¢,
35 (Angar the Screamer) $1.50, 35vf 95¢,
36fn/vf 75¢,
37 (X-Men, Nick Fury, Juggernaut, 1st appearance Siryn/Morrigan) $19.95, 37vf+ $3.95,
38 (X-Men, Juggernaut) $2.50,
39vf++ $1.50,
40vf (Morgan LeFay, 1st appearance Flying Tiger) $1.75,
41 (Morgan LeFay) $1.50,
42fn/vf (Silver Samurai, Viper) $1,
43vf (Silver Samurai, Viper) $1,
45vf (Impossible Man) $1,
46vf (Kingpin) $1,
50vf+ (52 pages, death of Spider-Woman) $6.95
Tangled Web (Ennis) 1-3 $1.50
Ultimate Marvel Team-up (Bendis)
2, 11 $1.50,
5 (1st appearance Afro-American Nick Fury) $11.95
Ultimate Spider-Man (Brian Michael Bendis)
22, 23, 24-27 (Green Goblin issues) $1.75,
29 $1.25,
36-38 (Venom) $1.50,
41 $1.25, 44 (X-Men) $1.50,
60 (1st appearance Ultimate Carnage Symbiote) $3.95
Ultimate Spider-Man Trade Paperback Vol. 1
(Brian Michael Bendis, Origin Spidey and Green Goblin) $7.50
Untold Tales of Spider-Man (Kurt Busiek)
1 (1st appearances of Scorcher & Brian McKeever) $2.50,
2 (1st appearance Batwing) $1.95,
3 (Sandman) $1.25,
4 $1.25,
5 (Vulture) $1.25,
6 (Human Torch, the Wizard) $1.25,
7 (Electro, the Enforcers, Batwing) $1.25,
10 (Commanda) $1.25,
11 (Electro, Eel) $1.25,
14-16 $1.25
Untold Tales of Spider-Man '96 (Fantastic Four, Sub-Mariner, art by Mike Allred) $1.50
VENOM

Venom Funeral Pyre

#1

Venom Lethal Protector

#1

Venom vs Carnage 1 (Spider-Man) $2.25
Venom: Deathtrap: the Vault (Graphic Novel, Avengers, Mystique) $2.50
Venom Funeral Pyre (Punisher vs Venom)
1 (holo-graphic foil) $1.50,
2, 3 $1.50
Venom Lethal Protector (1993, 1st solo Venom book)
1 (red holo-graphic foil) $17.95,
2 (1st appearances of Bomblast, Firearm, Ramshot & Sentry) $14.95,
3 $4.50,
4nm (1st appearance Scream/Donna Diego) $15.95, 4nm- $12.95,
5 (1st appearances of Phage, Agony, Riot & Lasher) $6.95,
6 $2.50
Venom The Madness (Juggernaut)
1 (Embossed cover) $1.95
| | | |
| --- | --- | --- |
| | | |
| Web of Spider-Man #1 | Web of Spider-Man #32 | Web of Spider-Man #48 |
Web of Spider-Man
1nm $12.50, 1nm-* sale price $7.95,
2 $2.95, 2vf+ $1.50, 2vf $1, 2vg/fn 50¢,
3-6 $2.50, 3vf+, 5vf+ $1.50,
5fn+ $1, 5vg 50¢,
7 (
Hulk
) $2.95, 7vf+ $1.50,
8 $2.50, 8vg 75¢,
9, 10 $1.50, 9vf, 9vf+ 85¢,
13-17 $1.95,
14vf+, 15vf+, 17vf+ 90¢,
18vf (1st appearance Venom cameo) $4.95,
19vf+ (1st appearances of Solo & Humbug) $4.95,
21vf+ $1.25,
22, 23* sale price 85¢,
24 (Vulture vs Hobgoblin) $1.25,
25,
26, 27, 28
$1.50,
29 (
Wolverine
, Hobgoblin appearance) $2.50,
30 (origin of the Rose & Hobgoblin) $2.50, 30vf+ $1.25,
31 (Part 1 of Final Kraven story) $3.95,
32fn (Final Kraven story) $1.50,
33,
34, 35, 37 $1.50, 33vf+ 85¢,
36nm- (1st appearance Tombstone cameo) $11.95, 36vf/nm $9.95, 36vf+ $7.95,
36vf $5.95,
37 $1.75,
38 (Hobgoblin) $1.95,
38vf $1,
39, 40, 43, 45, 46* sale price 85¢,
41,
42 $1.50,
44 (Hulk) $1.95,
47 (Hobgoblin) $1.95,
48 (Origin of Hobgoblin/Demogoblin) $3.50
49* sale price $1,
50 (double-sized issue)* sale price $1,
51-53 $1.50,
54, 55, 58* sale price 85¢,
56 $1.50,
57 $1.25,
59 (Cosmic Spider-man) $1.75,
61 (1st appearance Normie Osborn as a kid) $2.50,
62-65* sale price 85¢,
| | | |
| --- | --- | --- |
| | | |
| Web of Spider-Man #67 | Web of Spider-Man #86 | Web of Spider-Man #95 |
66, 67 (Green Goblin issues) $1.50,
68 $1.50,
69 (Hulk, She-Hulk) $1.75, 69vf+ $1.25, 69fn 85¢,
70 (Spider-Hulk) $1,
71, 72, 73, 77, 79* sale price 85¢,
74 $1.50,
75 (Iceman, New Warriors, Avengers) $1.50,
76 (Fantastic Four) $1.25,
78 (Cloak & Dagger), 80, 81, 85, 87* sale price $1,
82 $1.50,
83vf+, 85vf+ 75¢,
84 (Hobgoblin) $1.95,
86 (1st appearance Demogoblin) $5.95,
88, 89 $1, 88vf+ 75¢,
90 (hologram, gate-fold poster, 1st appearance Spider-Man 2099) $5.95,
91, 92 $1.25,
93, 94 (Hobgoblin issues) $1.25,
95 (Venom, Ghost Rider, Hobgoblin, Demogoblin)* sale price 85¢,
96 (Venom, Ghost Rider, Hobgoblin, Demogoblin) $1.50,
97 (1st appearance Nightwatch) $9.95,
98 (2nd appearance Nightwatch) $1.95,
100 (Holo-graphic foil cover) $1.50, 100vf+ 75¢,
101 (Maximum Carnage) $5.95,
102 (Maximum Carnage) $5.95,
103 (Maximum Carnage) $5.95, 103vf $2.95,
104, 105, 108, 109, 110, 111, 112, 116 $1.50,
112vf+ 75¢,
113 (Black Cat and Gambit) $1.50,
117 (Collector's Edition, foil flip book, 1st appearance Traveller) $2.95,
117vf+ $1,
118 (Venom, 1st appearance Scarlet Spider) $3.95,
119 (Venom, 1st appearance Kaine, 2nd appearance Scarlet Spider) $6.95,
120 (double-sized, Morbius) $1.50, 120vf 75¢,
123, 124 $1,
125 (enhanced cover, double-sized issue) $2.50,
125 (regular cover) $1.50,
126vf $1, 126fn 75¢,
128 (Black Cat) $1.25,
129 (last issue, New Warriors) $1.75, 129vf 90¢
Web of Spider-Man Annual
1 $1.50, 1vf+ 75¢,
2 (New Mutants, Art Adams) $2.50, 2vf+ $1.50, 2vf $1,
4 (Man-Thing, Black Cat, Kingpin, origin & 1st appearance Poison) $1.25,
5 (Fantastic Four, Silver Sable, Steve Ditko, 1st appearance Mister-E in Spider-Man) $2.50, 5vf $1.25,
6 (Punisher, Captain Universe, Gil Kane, Peter David, Steve Ditko) $1.50,
7 (Black Panther, Iron Man, Ultron, Origins of Venom, Green Goblin & Hobgoblin) $1.75
What If(1st series)
1vf/nm (What If Spider-Man joined Fantastic Four) $35,
1vf+ $20.95, 1vf $16.95, 1fn/vf $13.50
7 (What If someone else had become Spider-Man) guides for $8*sale price $1.95, 7vf $1.25,
24 (What If Spider-Man rescued Gwen Stacy, Gil Kane) $3.50,
30 (What If Spider-Man's Clone lived) $3.95,
46 (What If Uncle Ben had lived) $1.95, 46vf+ $1,
What If (2nd Series)
4 (What If 1st appearance Venom-Hulk) $5.95,
17 (What If Kraven killed Spider-Man) $1.25, 17vf+ 95¢,
20 (What If Spider-Man had not married Mary Jane) $3.50,
21 (What If Spider-Man married Black Cat) $1, 21vf+ 50¢,

* Specials are one each per customer