Used DVDs
$3.95 each
All used DVDs are from my private collection and have probably only been watched once.
Shipping Charges for Movies
1st DVD $1.75
each additional DVD 75¢
Buy 4 or more DVDs and get FREE Shipping!
There is no minimum order when ordering DVDs or VHS Tapes.
To reserve any one of these DVDs or Tapes fill out my online order form or send me an e-mail.
A.I. Artificial Intelligence
Widescreen, 2-Disc Special Edition
Steven Spielberg

Antz - Signature Selection
Woody Allen, Sylvester Stallone
Blade II
New Line Platinum Series
2 disc set - Wesley Snipes




Clerks
Collector's Edition
Kevin Smith & Jason Mewes
Crest of the Stars - To the Stars Vol. 1
Bandai - Region 1

Full Metal Panic! Mission 01
ADV Films- Region 1
Fiddler on the Roof
Special Edition - 3 hours of extras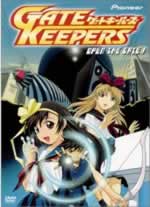 Gatekeepers
(each viewed once from my private collection)
Gatekeepers: Open The Gate Vol. 1
Gatekeepers: Infiltration Vol. 3
Gatekeepers: The New Threat Vol. 4
Gatekeepers: To The Rescue Vol. 5
Gatekeepers: Discovery Vol. 6
All of these DVDs are Region 1 from PIONEER
Jurassic Park
Collector's Edition

Iron Giant




A Man for All Seasons
Winner of 6 Academy Awards including Best Picture

The Odd Couple
Jack Lemmon & Walter Matthau

Metropolis by Osamu Tezuka
In Japanese and English from Columbia Tristar

The Prince of Egypts - Signature Selection

The Road Home
Zhang Ziyi - Columbia/Tristar - DTS

Sakura Diaries Vol. 1 (3 complete episodes)
(Rated 17 and up for nudity and sexual situations)



Spider-Man (Widescreen Edition)
2 disc Special Edition
(viewed once)
This page last updated on: January 25, 2010