ANIME/ANIMATION
Shipping Charges for Movies
1st DVD or VHS Tape $1.75
each additional DVD or Tape 75¢
There is no minimum order when ordering DVDs.
To reserve any one of these DVDs fill out my online order form or send me an e-mail
---
All Dogs Go To Heaven

Chicken Run - Special Edition
| | |
| --- | --- |
| | Jimmy Neutron: Boy Genius |
Yu Yu Hakusho Ghostfiles - Rescue Yukina

Vampire Hunter D - Bloodlust
---
Used Anime DVDs
$3.95 each
These are from my private collection. Most have only been viewed once and they are all in great shape.
All are Region 1. No bootlegs here!!!
Animatrix
nine short films about the Matrix
(viewed once)

Argentosoma Vol. 1: Another Reality
Region 1 from Bandai
(viewed once)



Argentosoma Vol. Vol. 2: Getting Even
Region 1 from Bandai
(viewed once)



Aura Battler Dunbine
Tales of Byston Well Vol. 1
A.D. Vision - Region 1
Antz - Signature Selection
Woody Allen, Sylvester Stallone

Crest of the Stars - To the Stars Vol. 1
Bandai - Region 1

Full Metal Panic! Mission 01
ADV Films- Region 1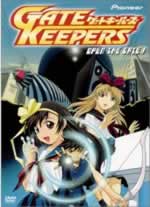 Gatekeepers
(each viewed once from my private collection)
Gatekeepers: Open The Gate Vol. 1
Gatekeepers: Infiltration Vol. 3
Gatekeepers: The New Threat Vol. 4
Gatekeepers: To The Rescue Vol. 5
Gatekeepers: Discovery Vol. 6
All of these DVDs are Region 1 from PIONEER
Iron Giant

Infinite Ryvius - Vol. 1: Lost in Space
Region 1 from Bandai

Metropolis by Osamu Tezuka
In Japanese and English from Columbia Tristar

Macross Plus Vol. 1 Parts 1 & 2
4 episodes

Project Arms Vol. 1
The Claws of the Cat


The Prince of Egypts - Signature Selection
Sakura Diaries Vol. 1 (3 complete episodes)
(Rated 17 and up for nudity and sexual situations)

Rune Soldier Vol. 3
A True Champion?
(viewed once)